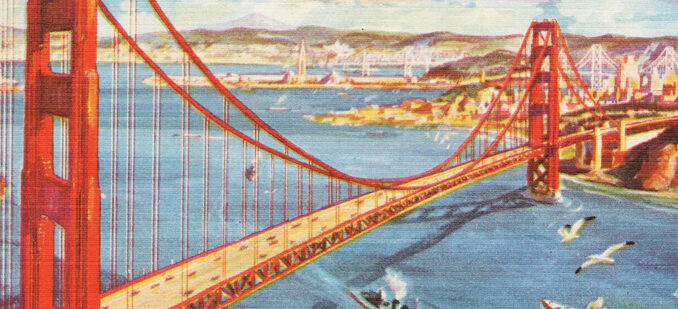 6000 miles, at these prices?
This is the first of five posts about my recent Jersey-to-California road trip.
---
By Mark Voger, author
'Britmania: The British Invasion of the Sixties in Pop Culture'
---
Imagine it's the Rapture, and St. Peter floats down from the heavens and declares, "Anyone who has ever shaved in a Cracker Barrel restroom, remain here. The rest, follow me."
I did it in the stall for privacy, not at the sink where anyone walking in would think I'm a hillbilly. I'm classier than that.
So desperate an act was necessitated by some bad luck, followed by some worse luck. (I'll spare you the details.)
A trek from the Jersey Shore to the San Francisco Bay Area is ill-advised at a time when gasoline prices are inflicting so much financial pain. But, to borrow from Robert DeNiro in "Raging Bull," we had no choice. This was a mission of mercy for an ailing relation, the story of my life lately. Still suffering from acute COVID paranoia, flying was not an option for our modest party.
So … it is what it is. Santa ain't comin' this year.
The gas prices were cooperative, relatively speaking, until Nevada, when all hell broke loose. I saw gas for $6.89 a gallon.
---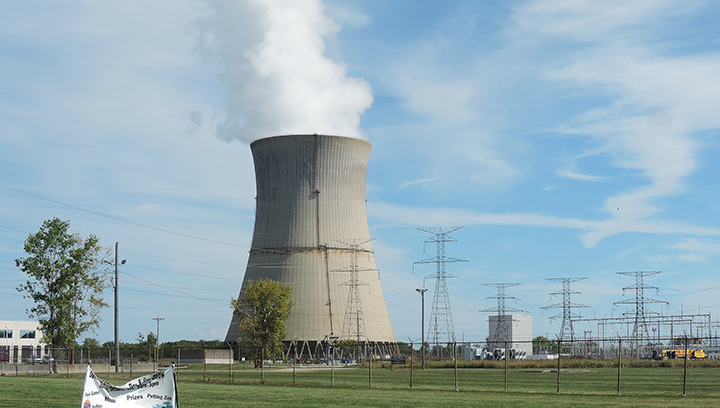 Few detours
Though we generally kept to the highways with few touristy detours, we laid eyes on much. The Delaware Water Gap and the Pocono Mountains proved you don't have to drive far to witness some truly amazing sights. We took in two Great Lakes, Eerie and Michigan, in Cleveland and Chicago respectively. Cleveland along Lake Eerie is nicely hip-ified; I noted an exhibit tied into Peter Jackson's docuseries "The Beatles: Get Back" was taking place at the Rock and Roll Hall of Fame and Museum. The steam-spewing Davis-Besse Nuclear Power Station at Oak Harbor, Ohio, was kind of eerie (pun intended) considering the many nearby resort-y spots.
In Middlebury, Indiana, we spotted quite a few horse-drawn carriages on the roads surrounding Rise n' Roll Bakery & Deli, were we picked up Amish butter to give some oomph to our Christmas cookies.
Lake Michigan along the coast of Chicago seemed like an ocean. It went on forever and there were beaches with lapping waves. We were on Route 66 for exactly four minutes, also in Chicago. It appeared that Gary, Indiana (hometown of the Jackson Five) was in need of Federal infrastructure funding.
We visited the famed Iowa 80 Truck Stop in Walcott, Iowa, purported to be "the biggest truck stop in the world." (I don't doubt it.) There were endless cornfields with clever, lovely topiary designs throughout Iowa. We saw anelope, prairie dogs, small dust cyclones and even tumbleweeds. We dined at two highly recommended burger chains not available in Jersey — a Culver's (in Chesterton, Indiana) and, at the insistence of one Californian host, an In-N-Out Burger (in Placerville, California).
---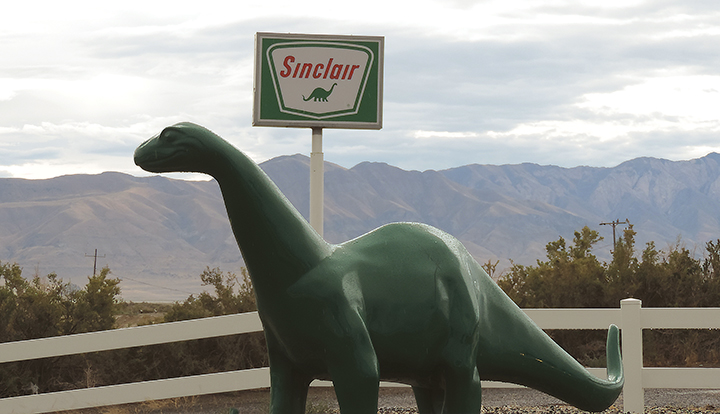 Old West history
Along the way, we stayed in Warrenville, Illinois; Sidney, Nevada; Cottonwood Heights, Utah; and Rancho Calvero, California. Sidney in Cheyenne County has much Old West history. Local literature tells us that Sydney became the starting point of the Sidney-Deadwood Trail after gold was discovered in the Black Hills in 1875, and that the Sidney Camp Lookout is one of the oldest buildings in the Panhandle. We didn't visit those sites, but we did go to the Sidney Wal-Mart (where I scored a complete set of 1967 "Aquaman" TV cartoons for five bucks).
We gassed up at a Sinclair station in Delle, Utah, which was equipped with a painted statue of Sinclair's mascot, a green dinosaur. A young trucker saw me photographing it, and approached. "Would yew take mah pitcher with the di-no-saur?" he drawled as he handed me his phone. This fella told me he is a Sinclair fanatic, pointing to the dinosaur logo emblazoned on his baseball cap as proof. He is on a mission to visit every Sinclair station with such a statue. He thanked me for the photos I took of him, but seemed mystified when I declined his offer to photograph me with the dinosaur.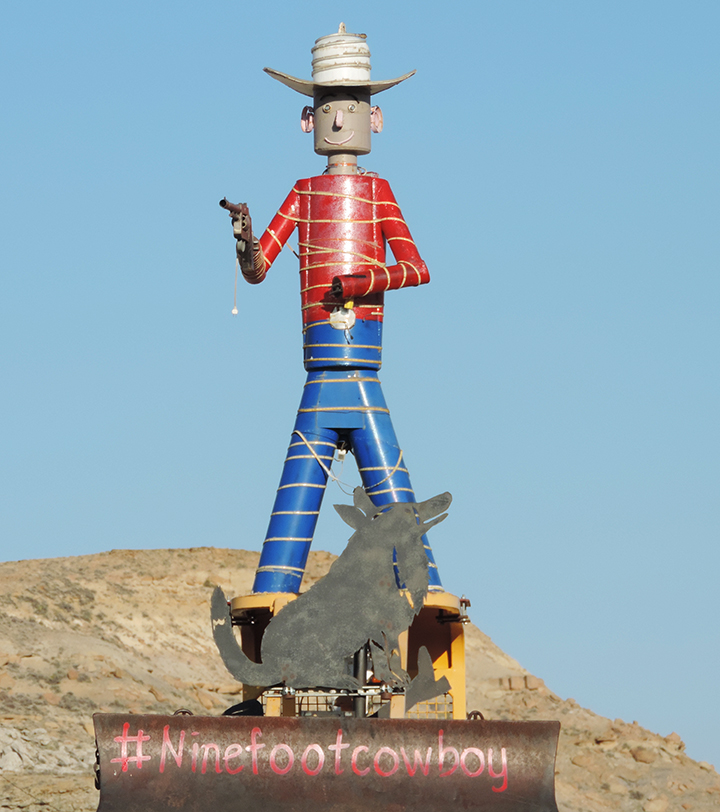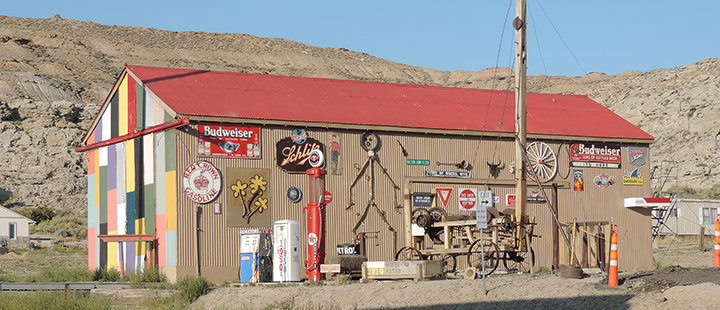 Oh, and we saw the Nine Foot Cowboy in Point of Rocks, Wyoming. He somehow lost his left hand which once held playing cards, but his gun is still at the ready in his right hand. (What am I, Roadside America?)
---
Casinos everywhere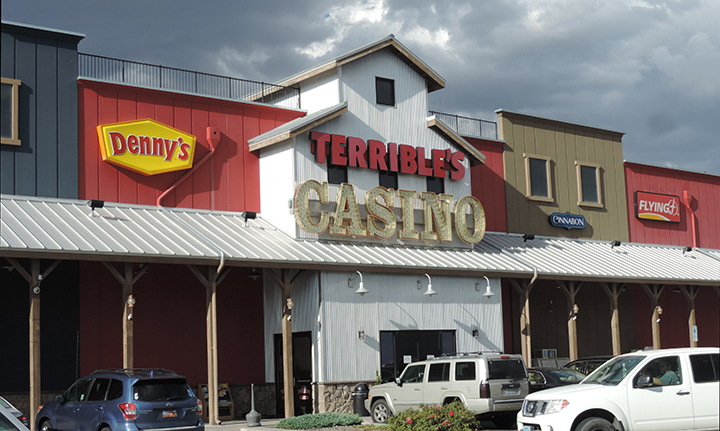 Terrible's Casino in Fernley, Nevada, was not your usual tourist trap. It had a full-service casino with a full-service bar and a full-service, fully staffed 24-hour Denny's, not to mention showers and massage chairs. If you signed up with Terrible's Casino, you'd get a 10-percent discount off the Denny's. That's any meal, any time, day or night.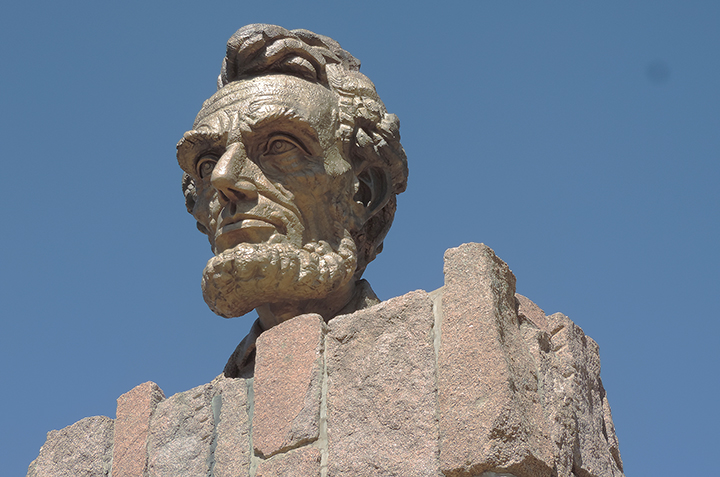 We laid eyes on the Abraham Lincoln Memorial Monument in Laramie, Wyoming, which was kind of "Planet of the Apes"-ish (remember the big statue of the Lawgiver?), and the Salt Lake (extremely white). We passed through Reno (casinos everywhere); Salt Lake City (dizzyingly beautiful from the distance); and Lake Tahoe (less posh, more rustic, than you might expect).
A detour brought on by a massive fire in Truckee, California, had us careening precariously downward through the Sierra Nevada Mountains on one narrow, winding, endless lane in pitch black with many blind spots. It was not fun. One false move, and many could die.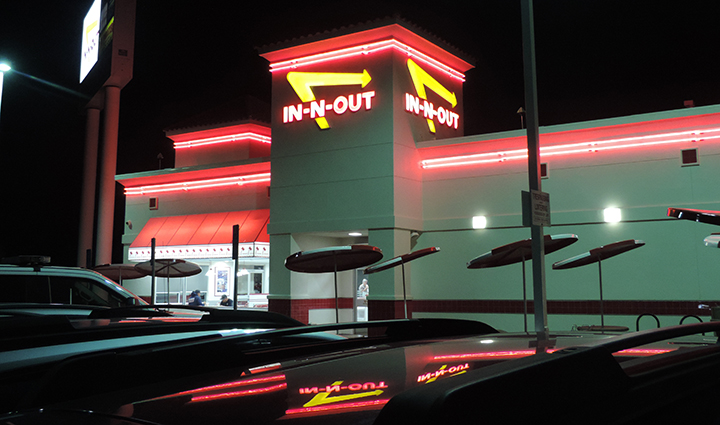 That In-N-Out Burger meal in Placerville was our reward following the harrowing experience. The place looked ready to film "American Graffiti 3" inside and out.
---
VIDEO
Sinclair's dino-exhibit at the 1964-65 World's Fair.
---
More about the trek

Read about the San Francisco Bay Area HERE.
Read about a Black Panthers landmark HERE.
Read about America the ugly HERE.
Read about America the beautiful HERE.
---