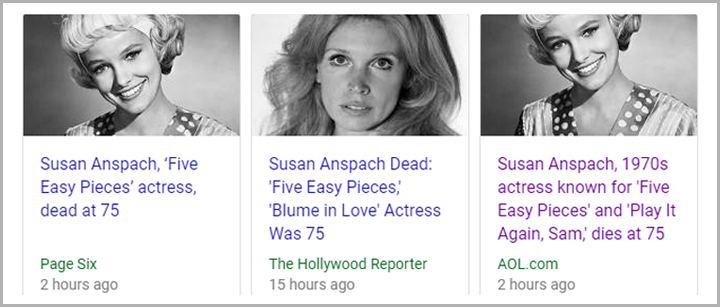 I could understand it if a photo of Beverly Owen accompanied an obit for Pat Priest, or vice versa. (Not that I'm in a rush for either tragic event to transpire. Marilyn Munster forever!)
But Susan Anspach?
When news of "Five Easy Pieces" star Anspach's death circulated on Friday, several news outlets (fake news outlets?) used a photo of Owen — a head shot from "The Munsters," yet — to accompany the obit. Below is a doozy …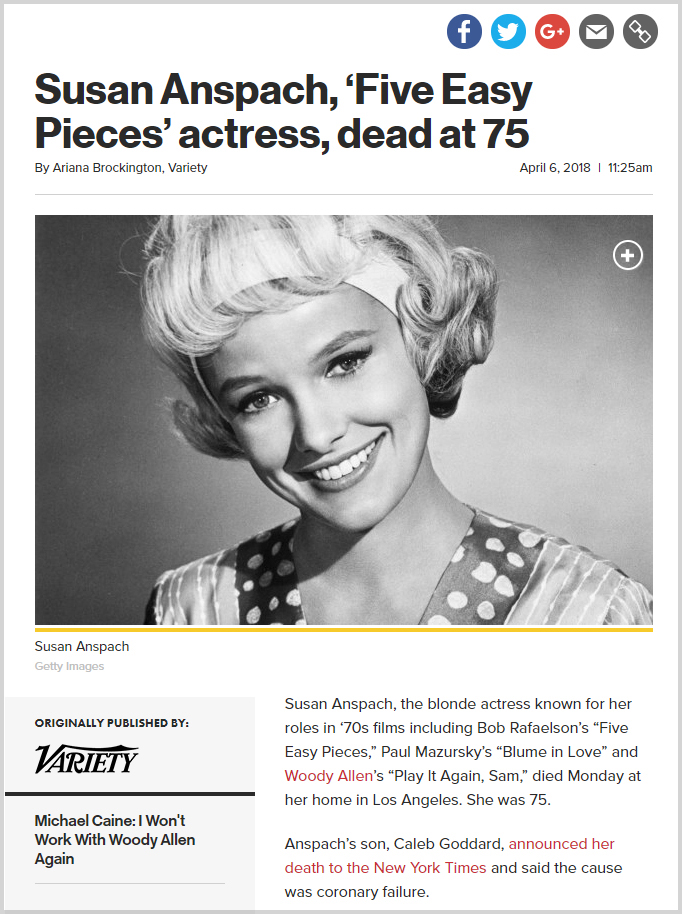 It kinda reminds me of when, back in 1969, photos of Glenn Strange as the Frankenstein monster accompanied obits for Boris Karloff. (If memory serves, The Philadelphia Bulletin, which my family subscribed to, was among offenders.)
Anyway, it was nice to learn that TV's short-lived Marilyn Munster (15 out of 70 episodes) was still among us.
And sad to learn about Anspach.
How did the mix-up happen? There's a slim 1960s-TV-series coincidence/connection. Anspach was once married to "Lost in Space" star Mark Goddard. "The Munsters" and "Lost and Space" aired concurrently through 1965 and '66. But that can't be it.
Or can it?
Oh, well. For comparison's sake, following is a video of Anspach from "Five Easy Pieces" and Owen from "The Munsters."
A dramatic, steamy scene with Jack Nicholson:
Beverly Owen and Al Lewis in the "Munsters" pilot (in color):
BONUS! Here's Butch Patrick on "Christina's Court" (she calls him Eddie Munster):