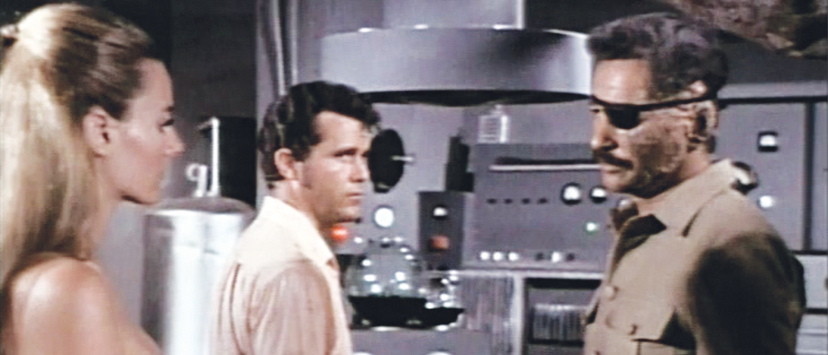 The talking head
The final of four posts about the bizarre Filipino horror films affectionately known as the "Blood Island Trilogy." Read previous post.
By Mark Voger, author, "Monster Mash: The Creepy, Kooky Monster Craze in America 1957-1972″

Quick! What do "The Man Without a Body" (1957), "The Head" (1959), "The Brain That Wouldn't Die" (1962), "They Saved Hitler's Brain" (1963), "The Frozen Dead" (1966), "Beast of Blood" (1971) and "Re-Animator" (1985) have in common?
All are horror movies with living dismembered heads as characters.
It's a sub-genre of horror that has no name. What to call it? "Head-on-a-table" movies? Hmmm … that's not bad.
Eddie Romero's "Beast of Blood" — third in the so-called "Blood Island Trilogy" of Filipino horror films starring John Ashley — views more like a cheap war movie than a cheap monster movie. There are many interminable sequences of armed men — good guys and bad guys — trudging warily through the jungle.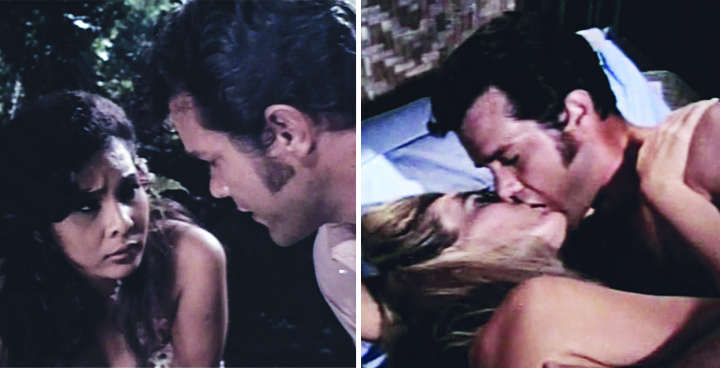 It's also the only proper sequel in the bunch — in fact, "Beast of Blood" is the only sequel in any of the Filipino movies to star Ashley.
In the preceding film, "Mad Doctor of Blood Island" (1969), medical researcher Bill Foster (Ashley) and fellow survivors were last seen sailing away from Blood Island. But there was a twist ending: Unbeknownst to Bill and company, a green monster miraculously survived a laboratory fire, and was now a stowaway hidden under a lifeboat cover! The end.
"Beast of Blood" picks up the action on the boat, with the monster attacking Bill and the crew. Bill is thrown overboard, clings to floating debris and passes out. (The crew isn't so lucky.) After awakening in a hospital, Bill decides to hop yet another boat back to Blood Island. This guy's a glutton for punishment.
It wouldn't be a Blood Island movie unless there was a beautiful white woman on the same boat. This time, it's Celeste Yarnall ("Star Trek," Elvis Presley's "Live a Little, Love a Little"). She plays Myra, a reporter who wants the scoop on the resilient Dr. Bill Foster, and will stop at nothing to get it. Even if it means sleeping with him. (And eventually, it does.)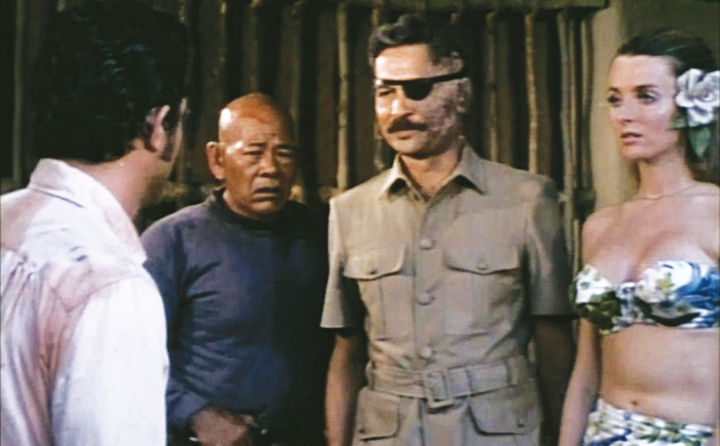 Once on the island, Bill investigates the charred ruins of a house inhabited by an evil mastermind who is now presumed dead: Dr. Lorca (Ronald Remy in the previous film; here played by Eddie Garcia). At the ruins, Bill and Myra find Lorca's right-hand man Razak (Bruno Punzalan), also thought dead, who skitters away. Literally. Watch the scene. He skitters.
It also wouldn't be a Blood Island movie without a hot island girl. In this case, it's Laida (Liza Belmonte), who is the best of both worlds: a lei-equipped nymph who can handle an automatic weapon. Laida tries to get it on with Bill; they kiss, but then nothing happens. Bill apologizes. (Er, what does he mean, exactly? The implication is that either Bill wasn't into it … or couldn't get it up.)
Meanwhile, Lorca has rebounded nicely, setting himself up in a (comparatively) luxurious spread deep in the bush, with a (comparatively) modern laboratory and an army of obedient minions. When Lorca learns that Bill has returned to the island, he kidnaps Myra to lure Bill to his new digs.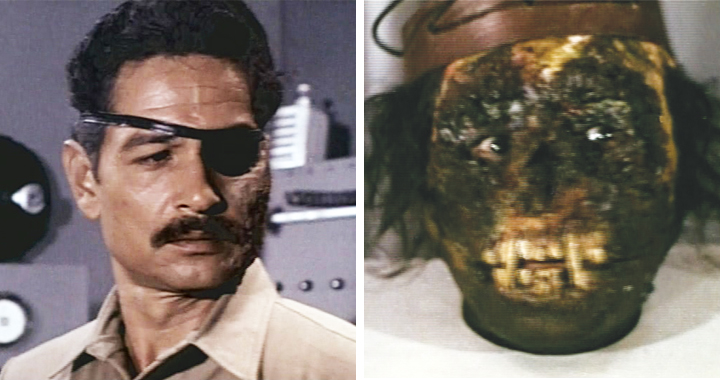 But Lorca looks worse for wear. The lab fire has given him a nasty case of "pizza face," and he now wears an eyepatch, a la 007's Dr. No.
Still, Lorca is as charming and enigmatic as ever, graciously extending every courtesy to Myra during her albeit involuntary stay. (He dresses her in a fetching sarong, complete with push-up top and hair-adorning flower.) Garcia's Lorca is different from that of Remy, but both characterizations share Lorca's creepy charm.
Once the jungle skirmishes begin, "Beast of Blood" gets pretty boring. You're thinking: More monsters, less marching! But then "Beast of Blood" gets back to what Blood Island movies do best, when we find out that Lorca has kept the monster's head alive on a table, and is replacing it with an artificial one.
But that's not enough insanity for the insane Dr. Lorca. He demands that the head converse with him. When it finally does, it utters what has become an all-time memorable line from deep-cut, low-budget horror movies. "Lorrrca!" it growls in an angry, raspy, accented voice.
Watch the movie and see if you don't find yourself repeating it: "Lorrrca!"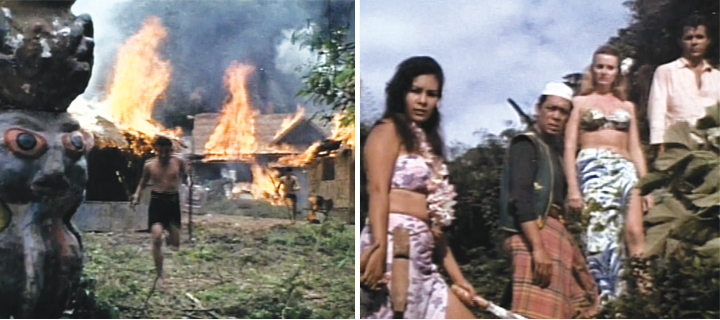 The head is gnarly, with dog-like fangs, real eyes and messy, burnt, green flesh. The head-transplant surgery scenes are nicely gory. (It appears that uncooked beef was put to use during a scalpeling.) When the body comes to life without a head, it looks ridiculous — cool ridiculous.
"Beast of Blood" doesn't leave you pining away for more. It doesn't necessarily make a perfect topper for the Blood Island Trilogy. These movies aren't cinematic genius — they're just three weird Filipino monster movies with gore, nudity and John Ashley.
But they never let you down. They always take you to a weird place. And that place is called … Blood Island.
One more time: "Lorrrca!"
View 34-page "Monster Mash" preview
Order "Monster Mash"