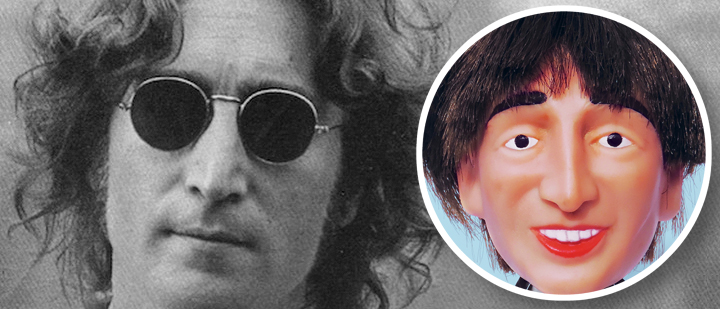 A graphic experiment
---
By Mark Voger, author
'Britmania: The British Invasion of the Sixties in Pop Culture'
---
Yesterday, I sent the finalized 192 interior pages for my humble forthcoming effort, "Britmania," to TwoMorrows Publishing in Raleigh. (I'm hoping the title tells all. It's, like, the Beatles, the Stones, Herman's Hermits, and all the cool stuff that came with 'em, the music and TV and movies and toys and comics and model kits and trading cards and …)
At the moment, I'm archiving the leftover art (more than 3,000 images), and I came across photos I took of my vintage John Lennon doll "posing" in New York City. It was a graphic experiment that didn't pan out, but it's still worth sharing, I think.
The day I signed the "Brtimania" contract, I went on eBay and picked up a set of the four Beatle dolls, which were manufactured by Remco Industries of Harrison, NJ, beginning in 1964. (Previously, I owned only Remco's Ringo doll, which I bought for the bargain price of $40 from the original owner. The lady looked somewhat wistful at parting with so powerful a childhood memento. This was maybe 25 years ago at the Allaire Village Flea Market.)
The Remcos I recently acquired did not come cheap. I found a dealer who bought and sold Remco Beatle dolls almost exclusively, and whose specialty was to "curate" complete sets of corresponding quality. I wanted good hair, good faces and good paint. My idea was this: I've often seen the Remco dolls in books and online, but somehow, the photos never convey the hypnotic charm, the heartwarming vibe, that you feel in the presence of the real thing. I wanted to do a two-page spread showing the four Remco dolls— John, Paul, George and Ringo — in "VG" to "mint" condition with no accompanying editorial copy. Like, BAM! I wanted the reader to feel as if they, too, "own" a set of Remco Beatles.
My first concept was to bring the Remcos into New York City and pose them, four astride, across the street from the Ed Sullivan Theatre (where the Beatles first performed for an American audience, on Feb. 9, 1964). After doing some rough digital sketches, I concluded that the backdrop would be too busy. What finally worked was to have three Beatles on the left-hand page, and an exteme closeup of a fourth Beatle on the right-hand page. But which Beatle to prioritize in this way? It had to be Lennon. The likeness is out of this world.
So, on Nov. 7, 2021, I toted my Remco John into the city — by car, mind you, 'coz I'm still too COVID paranoid to take the train — to photograph the little guy at various locations. In the end, this idea wound up not working either. (At the bottom of this post, I'll share the finalized Remco spread, which will appear on pages 140 and 141 of "Britmania," shipping in October.)
For the sake of documenation, here are some of the best photos from the NYC session …
---
Toy on the town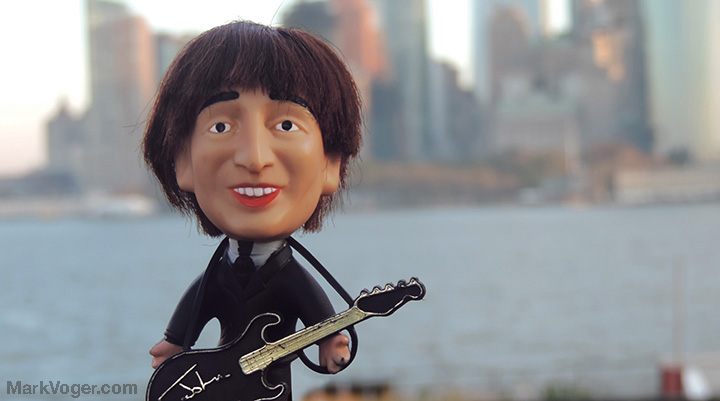 I didn't keep a good record of the locations, but this one was taken from Governors Island. The ferry ride to the island was just lovely.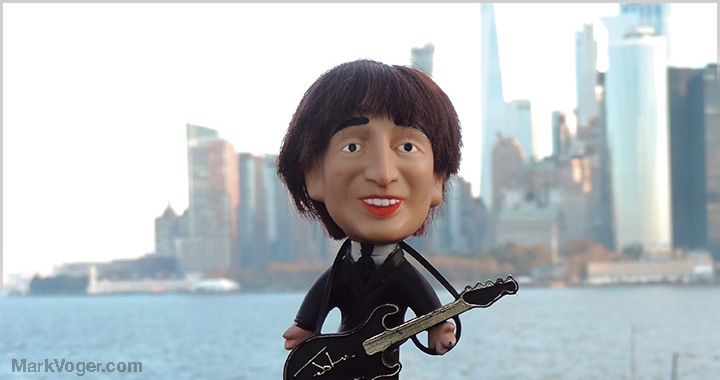 Another view from Governors Island. The island was desolate on this cloudy, slightly chilly Sunday morning. It was a little like the "Twilight Zone" episode with a young couple running around a suburban neighborhood that has no people. It ends up being … an oll-day ouse-hay! (I cleverly used Pig Latin to avoid spoilers.)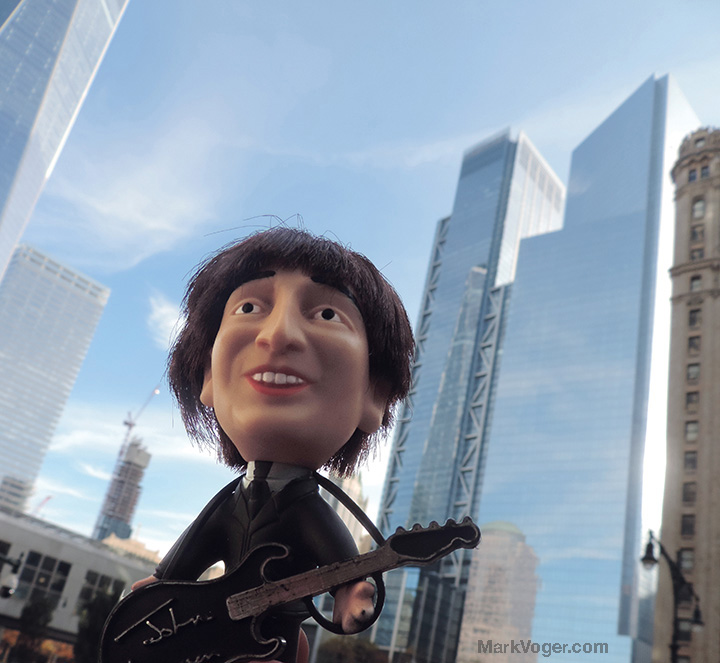 Remco John amid skyscrapers …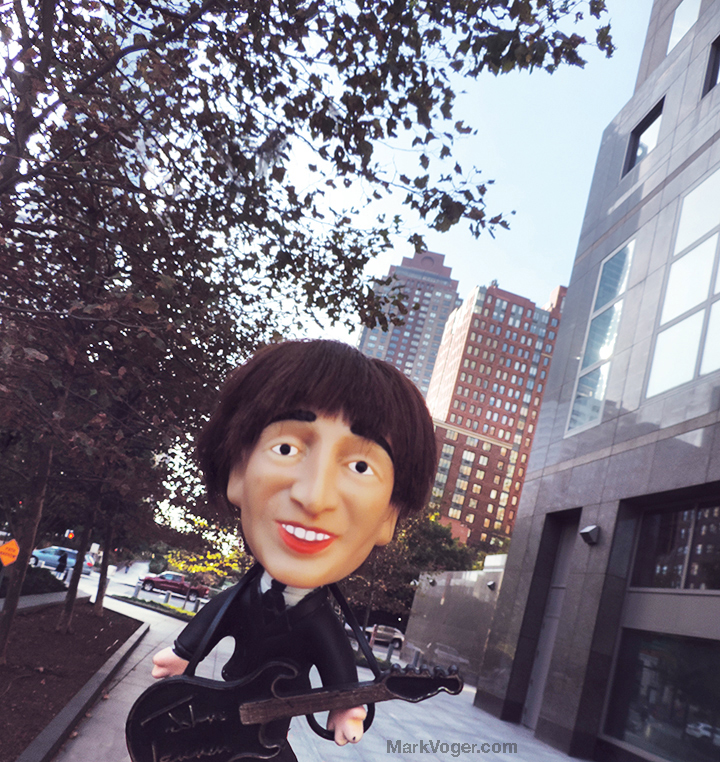 Remco John in Midtown …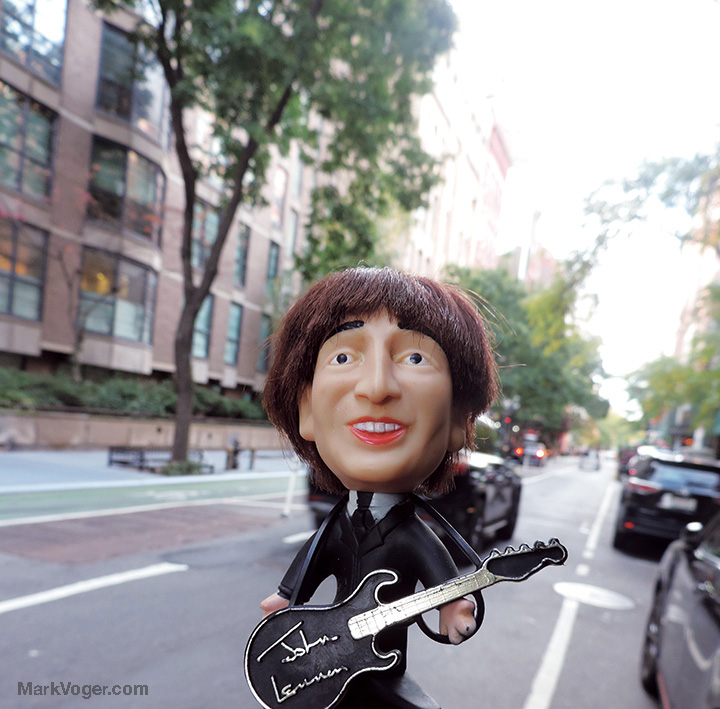 Remco John in the Village. For this one, I remember the location: It's 13th Street. (No, I didn't go to The Dakota. Didn't have the heart.)
P.S.: I (ill-advisedly) went on the same day as the New York City Marathon. Getting around the city was a joy.
---
The final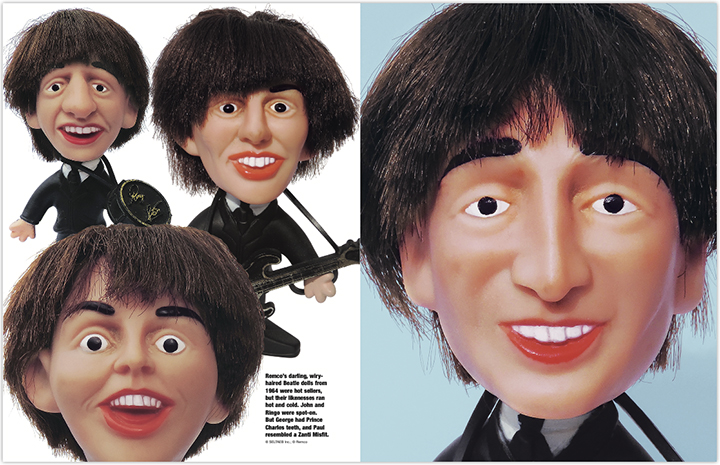 Here's how the two-page spread will look in "Britmania." Many scenarios were contemplated, and many photos taken, before I finally settled on this simple, in-your-face approach. Hats off to the sculptor who did John and Ringo. I would bet my bottom dollar that the same scupltor also did Lyndon B. Johnson, Barry Goldwater and Al Lewis (as Grampa Munster) for Remco. I once interviewed Remco founder Isaac "Ike" Heller (1926-2015) at his home in Scotch Plains. Unfortunately, Mr. Heller could not recall the sculptor's name.
---
Videos
Above, a gentleman in Mexico city unboxes his Remco Beatles.
Above is Ira Gallen's illuminating 1991 interview with Bernie Schiff, who directed TV commercials for Remco. See a pint-sized Patty Duke (but no Beatles) in one of the spots!
---
P.S.: My "header" art interpolates the iconic photo of Lennon wearing a T-shirt emblazoned with "New York City" (not visible in the crop, however) with the sleeves cut off. For the record, it was taken by photographer (and Lennon friend) Bob Gruen in 1974, atop Lennon's apartment building at 434 East 52nd Street. Lennon's then-girfriend, May Pang, was on hand. Lennon bought the shirt for $5 from a street vendor. More HERE.