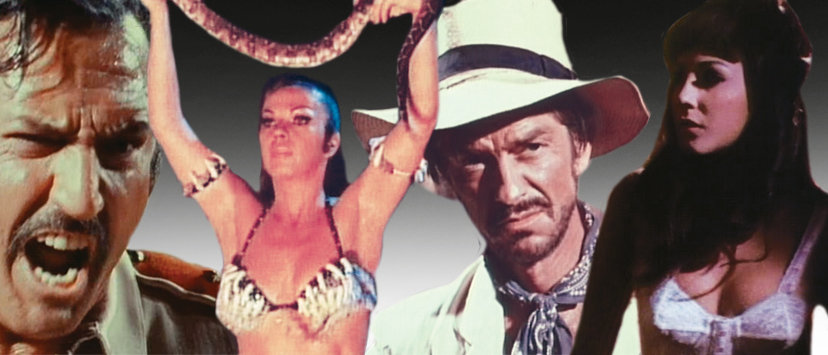 The old master played well with others
By Mark Voger, author, "Monster Mash: The Creepy, Kooky Monster Craze in America 1957-1972″
In Boris Karloff's final four films, which he made less than a year before his death for a Mexican studio, the actor got to work with some interesting and accomplished Mexican actors and actresses. A few of them are remembered for their work in the genre in which Karloff was a pioneer. Some played roles in more than one of the Karloff films, lending them a "company" feel.
[Read previous post: The Mexican Karloffs examined]

TONGOLELE ("Isle of the Snake People")
Dancer/actress Tongolele (real name: Yolanda Montez) is, in her 80s, still a superstar in Latin America (and she still wears her trademark shock of white hair). She is so well known that, like Karloff, her name appeared in the title of a film: the musical murder mystery "Han matado a Tongolele" (1948). In that film, she frequently dances with her backside facing the audience – it is a force of nature – and one can't help but conclude that Tongolele invented "twerking." In "Isle of the Snake People," Tongolele is an uncanny choice to play the intimidating voodoo priestess Kalea; her eyes are wicked, her dancing is hypnotic … and she's a natural at handling snakes.

QUINTIN BULNES ("Isle of the Snake People," "House of Evil")
Aficionados of Mexican horror films will always remember tall, thin, intense Bulnes as the voodoo priest who unleashes the tiny terrors in "Curse of the Doll People" (1961). Bulnes also played the dapper singing vampire – top hat, white gloves, tusk-like fangs – in the twisted kiddie flick "Little Red Riding Hood and the Monsters" (1962). Bulnes is in one of Karloff's most memorable scenes of the Mexican films: In "Isle of the Snake People," when Karloff catches Bulnes getting lovey-dovey with a zombie girl, he flogs him with a cane as Bulnes scurries around his hut. Considering Karloff's age and limited mobility, it's quite a physical scene.

SANTANON ("Fear Chamber," "Isle of the Snake People")
A little person, Santanon played Stinky the Skunk in "Little Red Riding Hood and the Monsters." Yeah, Santanon was unrecognizable in the Stinky costume. But it means something that this man — who would add so much creepy humor to two of Karloff's final films — is hopping merrily beneath the faux fur.

ISELA VEGA ("Fear Chamber")
She posed nude for Playboy and had a role in Sam Peckinpah's "Bring Me the Head of Alfredo Garcia" (both 1974). But before that, Vega played Helga, Karloff's mysterious fellow scientist with an eye for the ladies who becomes obsessed with a monster rock. Helga, it dawns on us, is a voyeur and a sadist — character traits which Vega plays with authority.
YERYE BEIRUTE ("Fear Chamber," "The Incredible Invasion")
Beirute had roles in two Mexican vampire flicks, "The Vampire's Coffin" (1958), opposite German Robles' returning Count Lavud, and "Bring Me the Vampire" (1963). Beirute also shared screen time with Lon Chaney Jr., who all but reprised Lawrence Talbot in the Tin-Tan sendup "La Casa del Terror" (1960), in were-footage also seen in Jerry Warren's infamous mishmash "Face of the Screaming Werewolf" (1964).

JULISSA ("Fear Chamber," "Isle of the Snake People," "House of Evil")
Still active in television, Julissa is an important figure in Mexican culture for her work as a theatrical producer and, when she was a youngster, a pop singer. Julissa played virginal characters in three of the Mexican Karloffs — though her "Isle of the Snake People" character's doppleganger did provocatively put a snake in her mouth (is there any other way?), and she looks fetching in turn-of-the-century lingerie in "House of Evil."

CARLOS EAST ("Fear Chamber," "Isle of the Snake People")
Sandy-haired leading man East played a suave espionage agent in the Mexican romp "Cazadores de espias" (1969), which boasts go-go girls, rock bands, masked wrestlers, a robot and a femme fatale with a man-eating plant. East brought easy charm to his roles in the two Karloff films (not to mention, he got to do makeout scenes with Julissa in both). East's billing was Americanized to "Charles East" in "Isle of the Snake People."

RAFAEL BERTRAND ("Isle of the Snake People")
The Cuban actor had recently come off of a casting coup; Bertrand had a role in Richard Brooks' big-studio western "The Professionals" (1966) starring Burt Lancaster and Lee Marvin.
JACK HILL (director)
Hill scripted and directed the English-language scenes for Karloff's final four films. The way Hill remembers it, Karloff was old, sick, frail … and happy to be working.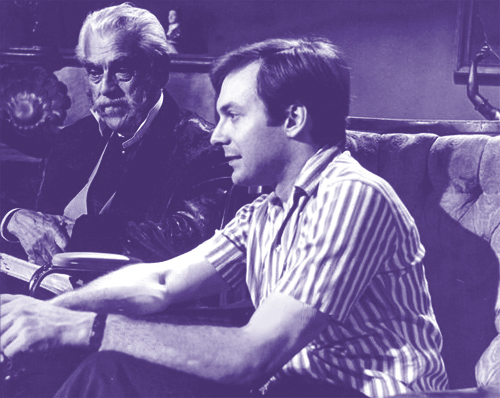 "He thought it was fun. He thought it was great," Hill told me in 1998. "He loved all of the scripts. It gave him a chance to play four different characters back-to-back over a four-week (sic) shoot. He had a great time with it."
As for Karloff's condition during shooting: "He had emphysema, and he had to have oxygen with him all the time. He'd be in his wheelchair, and when it was time for him to do his scene, he would get up and he would do his action, and then go back and sit down and breathe his oxygen again.
"It was really quite pathetic, but I didn't think of it that way at the time, because he was so good-spirited. Everybody was really proud of him.
"He liked to work. It got his mind off his problems. He knew that he wasn't going to last much longer. In fact, the way he put it to me, he said, 'I want to go out in harness.' "
View 34-page "Monster Mash" preview