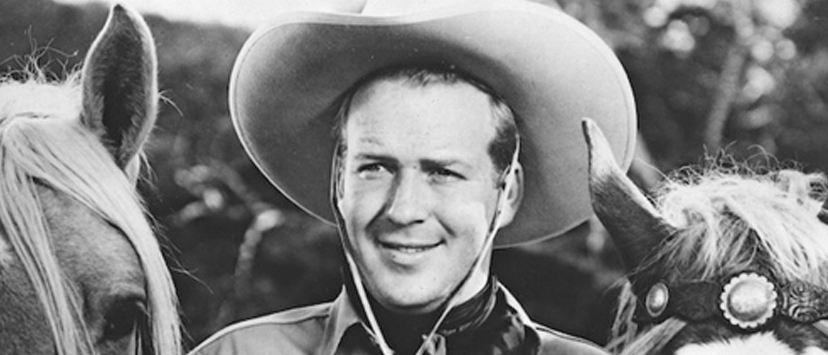 The golden voice of the prairie!
By Mark Voger, author, "Monster Mash: The Creepy, Kooky Monster Craze in America 1957-1972″
For a big galoot from New Jersey, Dick Foran had quite an eclectic Hollywood career.
He was Bette Davis' pump-jockey boyfriend who tangled with Humphrey Bogart in "The Petrified Forest." He was part of John Wayne's platoon in John Ford's "Fort Apache." He played straight man to Abbott and Costello. And he fought the Mummy.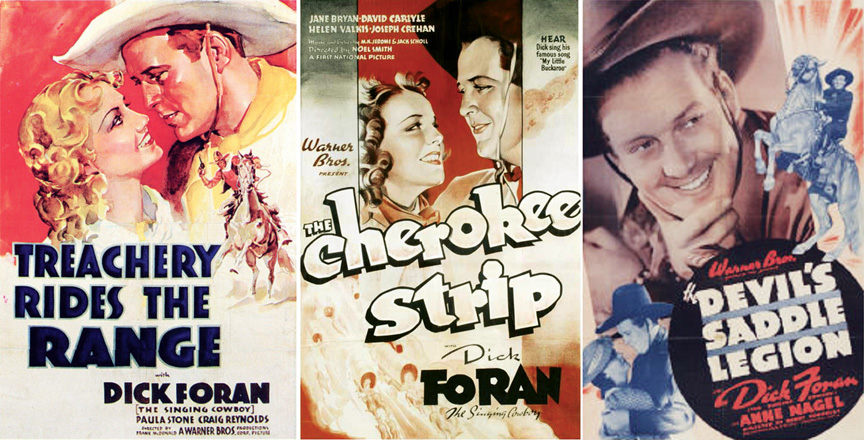 Those well-remembered movies are considered classics of their respective genres. But a series of films in Foran's career that are virtually obscure to modern audiences has gotten the deluxe reissue treatment, via "Dick Foran Western Collection," a 12-film, four-disc DVD set from Warner Archive Collection ($32.49; order the set manufactured-on-demand at WarnerArchive.com).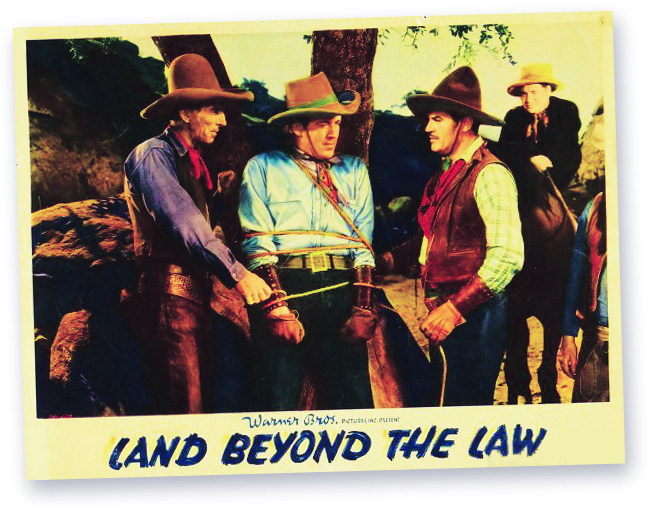 From 1935 to '37, Foran starred in a dozen "singing cowboy" films for Warner that are exciting, old-timey westerns elevated by Foran's easy charm.
Foran's Jersey pedigree is off the charts: He was born in Flemington; attended Princeton (where he played football); and his father and brother were state senators. But Foran eschewed state politics and hit the trail west for Hollywood. After becoming a vocal star on radio, Warner Brothers tapped him for the singing cowboy films.
He wasn't the first or last singing cowboy. Of course, the most famous are Gene Autry and Roy Rogers, but even a scrawny young John Wayne can be seen strumming a guitar and lip-synching (badly) in one or two of his early "oaters" for Lone Star.
Foran — tall, barrel-chested, likeable, with an impish smile — makes a solid western hero. Billed as "The golden voice of the prairie," Foran plays a different character in each movie. In fact, the only consistent character is his horse, known as Smoke on-screen and off. Smoke is a gorgeous Palamino with what looks like a golden hide augmented by a white-blond mane and tail. He's got a dainty trot and a beautiful gallop.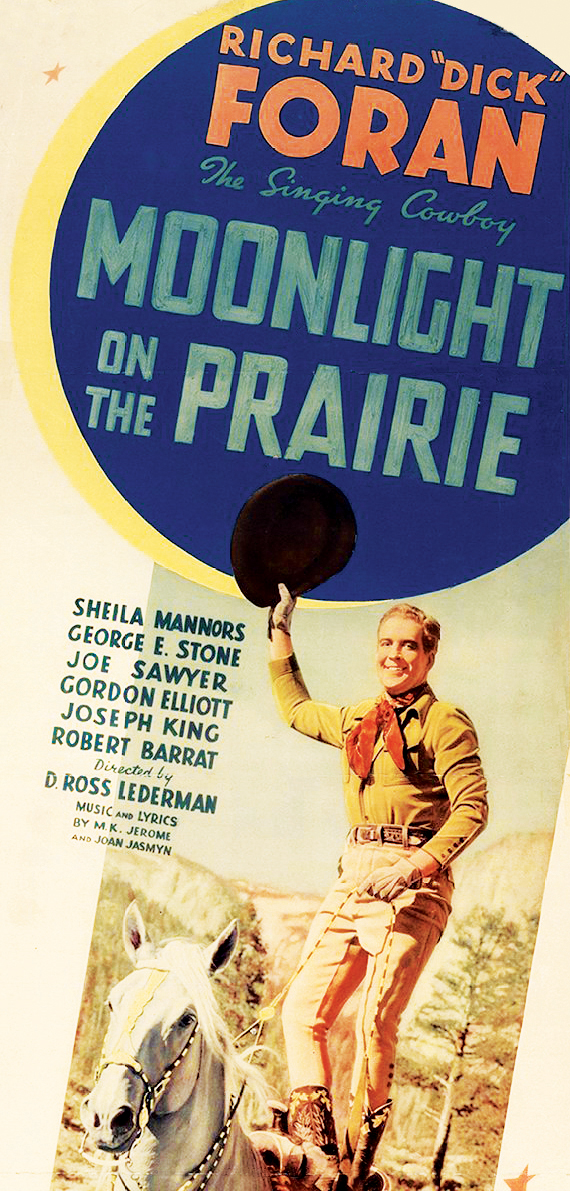 Regular players include western mainstays Bud Osborne (who wound up in three Ed Wood movies) and Milton Kibbee (brother of Guy). Joseph Crehan — who played Ulysses S. Grant in nine films — is frequently seen as a good-guy captain or commander.
Glenn Strange (later the Frankenstein monster in three Universal films) is in most of them, sometimes unbilled in comical bits, sometimes playing Foran's sidekick. His work in the series is a revelation for fans of his Frankenstein movies. For the most part, the imposingly tall Strange played heavies and henchmen in the old westerns. In the Foran films, he is exclusively comedic. It's his best work.
The movies follow a formula, as most western series do. Usually, the first shot is of Foran riding Smoke and singing; and the final shot is Foran with the heroine, canoodling in the back of a two-seater coach pulled by Smoke, while Foran … sings.
In between, Foran typically sings two full numbers. He might start belting one out in a bar, or at a dance, or by the campfire. And reliably, everyone within earshot stops in their tracks and nods admiringly. (To my untrained ear, Foran sounds more like an Irish tenor than a prairie crooner.)
The stories are like little history lessons — well, Hollywood history lessons — set in specific times and places (specified in a post-opening-credits title card), and they often touch on politics. Sometimes, real-life historical figures are portrayed, such as Abraham Lincoln and New Mexico governor Lew Wallace. Foran is frequently an undercover military or government man, and he's frequently wrongly accused of murder.
There's lots of good old-fashioned ridin', shootin', fightin' and romancin'. And though the Foran westerns are B-movies at their core, they have enough Warner Brothers production values to make them a cut above many of the "poverty row" crank-'em-out oaters of the period.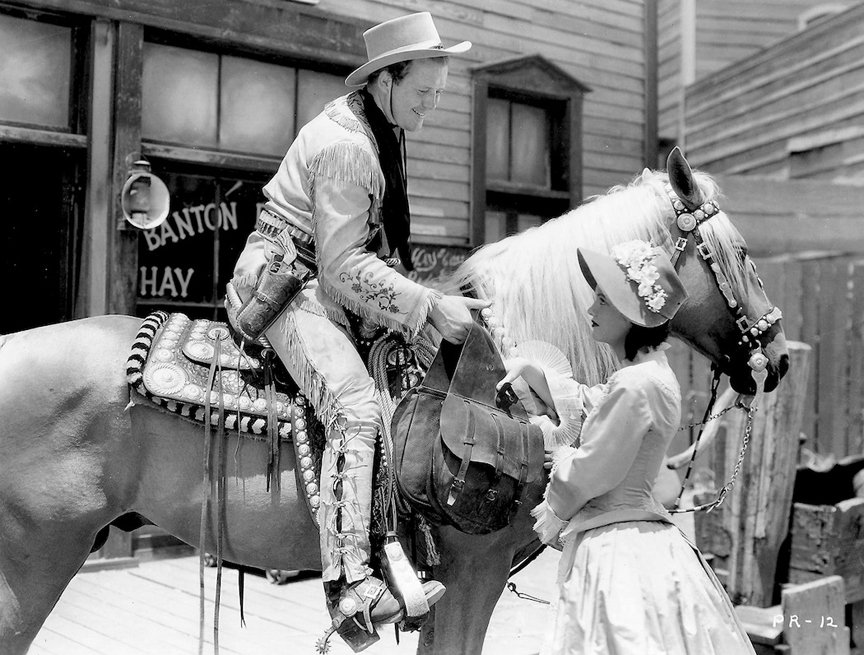 THE FILMS:
 "Moonlight on the Prairie" (1935)
Warners' first in the singing cowboy series has Foran as a "Wild West" performer; the opening sequence of Foran being chased by Indians is (spoiler alert) an audience fake-out. "Moonlight" has a secret weapon: that great movie shrimp, George E. Stone, plays Foran's sidekick. Unfortunately, this is Stone's first, last and only appearance in the series.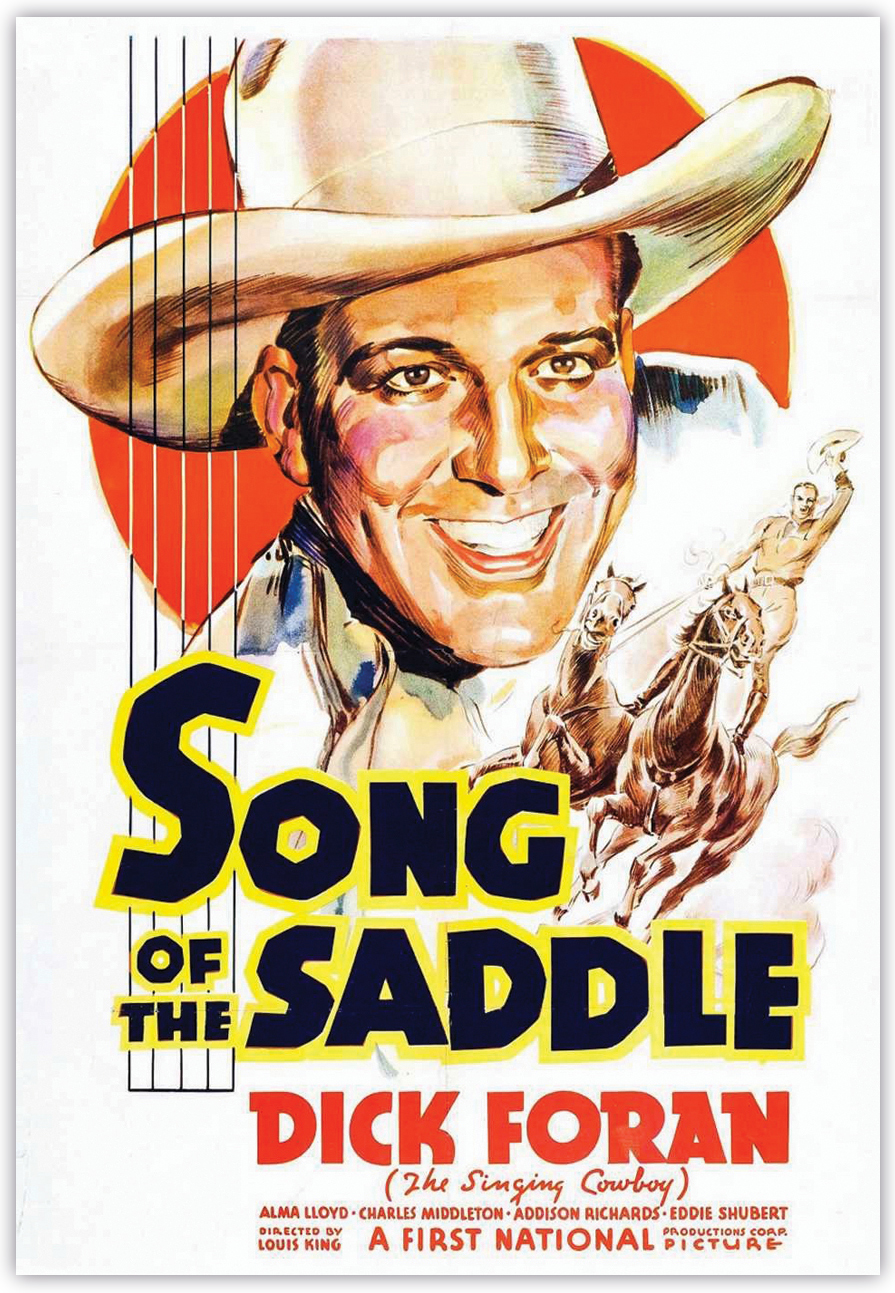 "Song of the Saddle" (1936)
A young boy who likes to sing (George Ernest, briefly a member of Our Gang) witnesses his dad's murder at the hands of white men masquerading as Indians. These fiends are in the employ of hissable villain Charles Middleton (later Ming the Merciless in three Flash Gordon serials). The boy gets revenge when he grows up to become … Dick Foran. With Bonita Granville (later the movies' Nancy Drew) as Ernest's plucky sister.
 "Treachery Rides the Range" (1936)
The U.S. government makes a treaty in which only Indians can kill buffalo. To stir up trouble, white buffalo hunters dress up as cavalry men, and then murder two young Indians, triggering a war.
 "Trailin' West" (1936)
Abraham Lincoln himself (Robert Barrat) proves to be a fan of Foran's singing. By presidential order, Foran goes undercover to find out who is committing that most treasonous act in old western movies: selling guns to the Indians.
"California Mail" (1936)
Our hero uncovers a plot by which a stagecoach company is robbing its own coaches. And we learn never to mess with Smoke the Wonder Horse; in two separate incidents, Smoke stomps a couple of baddies to death.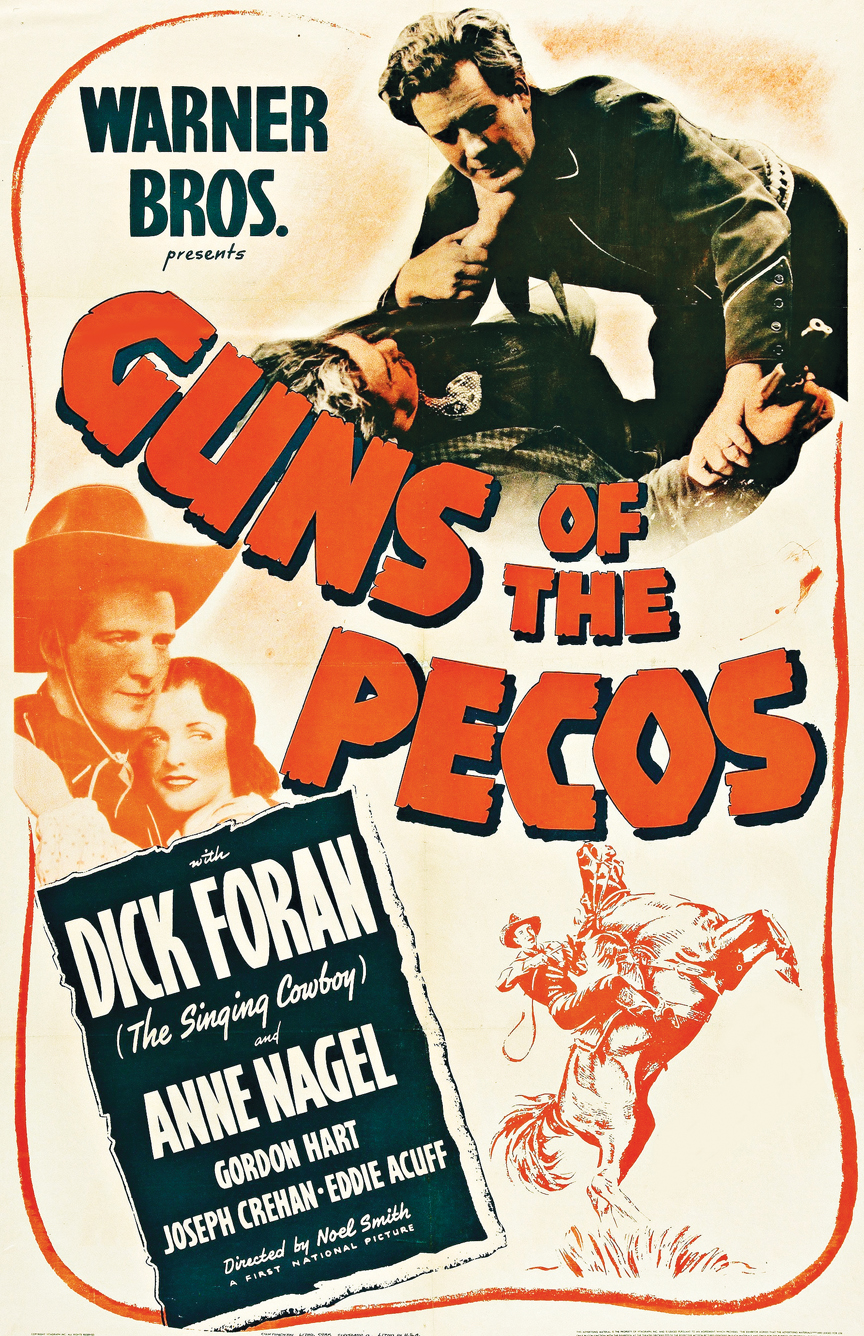 "Guns of the Pecos" (1937)
The newly formed Texas Rangers aim to bring law to lawless Texas, despite the maneuvers of a power-hungry crooked judge. With Anne Nagel, who played Boris Karloff's wife in "The Invisible Ray."
"Land Beyond the Law" (1937)
After his father is murdered, black-sheep son Foran straightens out and is appointed as sheriff. Then cattle rustlers provoke a range war. Glenn Strange sings (with the chorus, not solo) and does excellent comedy.
"Blazing Sixes" (1937)
Foran vs. gold thieves. A masked man with red hair — just like Foran's! — holds up a stagecoach and murders a passenger. As Peewee, Strange is promoted to full-on sidekick.
"The Cherokee Strip" (1937)
Pioneers inaugurate a new town, Big Rock, but one of its citizens (Edmund Cobb) tries to grab up everything in sight. (Cobb was later an extra in 1959's "The Atomic Submarine," which starred … Foran.) "The Cherokee Strip" has an annoying kid (Tommy Bupp) who, in a kinda creepy sequence, snuggles against Foran as the latter sings "My Little Buckaroo." The less said, the better.
"Empty Holsters" (1937)
This late series entry has one of the most touching man-and-his-horse sequences of the western genre. Unjustly accused of murder, Foran is sentenced to 10 years, and is paroled after serving five. His first wish as a free man is to saddle up Smoke. But Foran is told that while he was in stir, Smoke wouldn't let anyone else ride him, and so the horse was set loose into the wild. "He always was a one-man horse," Foran says, adding, "He shouldn't be hard to find." Later, Foran mosies outdoors and begins singing. Smoke hears him and comes a'gallopin'. I defy you not to get teary when watching this sequence.

"The Devil's Saddle Legion" (1937)
To change the course of a river for personal profit, baddies plan to build a dam using cheap labor: framed convicts. With Nagel and Strange.
"Prairie Thunder" (1937)
In Foran's final ride, a baddie (Albert J. Smith) doesn't want the railroad or the telegraph to go through — it'll hurt his shipping business — and so he enlists an Indian tribe with incendiary rhetoric like: "Together, we will fight the iron horse!" The Indian chief is played by a behind-the-scenes legend: Yakima Canutt, the great stuntman and stunt coordinator of hundreds of movies from silent westerns to "Ben Hur." In its protracted war sequence, "Prairie Thunder" is so loaded with stock footage, you're waiting for Bela Lugosi to say, "Snips and snails and puppy dog tails!"
"Dick Foran Western Collection" has a bonus short, "The Sunday Round-Up" (1936). It's something like an alternate-universe version of Foran's singing cowboy movies, in color. Foran plays a preacher who, fed up with low turnout at his Sunday services, transforms his church into a sort of vaudeville house. Wearing a preacher's collar, Foran looks like he could have given Pat O'Brien a run for the collection basket.
Perfect dessert: When you finish watching "Dick Foran Western Collection," here's an idea: Pop in the Abbott and Costello movie "Ride 'em Cowboy" (1942). In it, Foran plays an author of western adventure novels who, in real life, is a city-fied fraud who can't ride a horse. After seeing Foran's confident, agile horsework in his singing cowboy westerns, his wink-wink turn in "Ride 'em Cowboy" is all the funnier. Plus, the movie has Ella Fitzgerald singing "A-Tisket, A-Tasket."