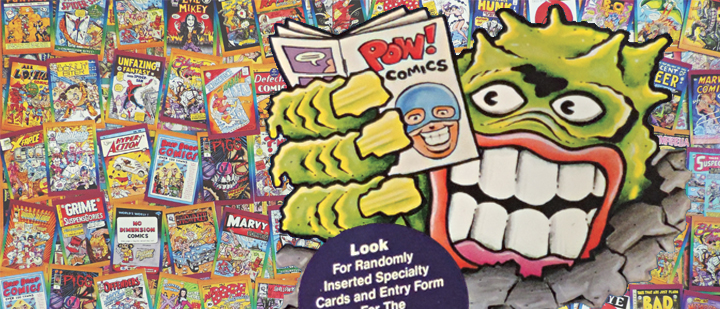 'Big bang' of format revealed
By Mark Voger, illustrator
Defective Comics Trading Cards
---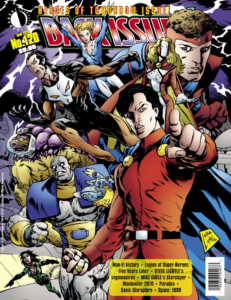 Both of you rabid readers of MarkVoger.com will want to see Back Issue #120 (June 2020), now available from TwoMorrows Publishing.
The Eisner Award-winning magazine, helmed by onetime DC Comics editor Michael Eury, spotlights comic books of the '70s, '80s and today. The folks at Back Issue, bless them, have seen fit to publish my first-person musing, "Weird! Wonky! The Defective Comics Story," with the subtitle "and the Secret Origin of the Sketch Card."
I'll get to that "secret origin" in a moment.
My essay tells a small story against a big backdrop. In the early 1990s, the comics industry was riding high with unprecedented sales gains … and a glut of product. In 1993, a trading card set I illustrated for a Connecticut publisher was released. Defective Comics Trading Cards presented parodies of classic and then-contemporary covers, which I drew in the spirit of Mad magazine and Wacky Packages.
Something kinda cool happened while I was working on the trading card set. And this something sheds light on an oft-asked question: Who created the Sketch Card? (Guess where this is going.)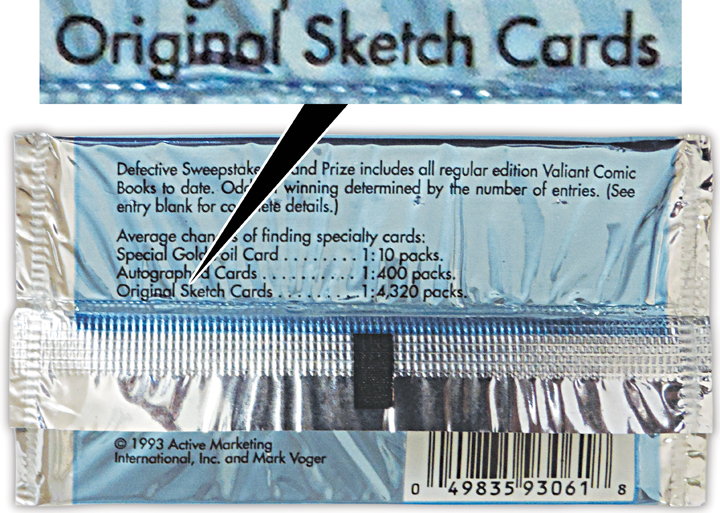 Here's what happened: The early-'90s comics boom was largely fueled by gimmicks – foil covers, hologram covers, polybagged premiums, "death of" editions. The publisher of Defective Comics Trading Cards – Active Marketing International – played to the mania for gimmicks with pack-inserted specialty cards. Foil cards (in gold or silver) and a sweepstakes entry were found in every pack (which themselves had foil wrappers). Rarer were randomly inserted Autograph Cards signed by me.
Active pushed me to come up with yet another gimmick to help generate buzz – and boost sales. As I write in Back Issue #120:
I proposed to draw original artwork on blank cards, which Active would randomly insert into the foil packs, kind of like Autograph Cards on steroids. At the time of my pitch, I christened the concept – as God is my witness – the "Sketch Card."
The flat-white Sketch Cards were blank on one side – that's where I drew my sketches – and on the other side was printed "Congratulations! You are the proud owner of a Defective Comics Sketch Card!" I drew, signed and numbered 500 Sketch Cards (no two were alike), and shipped them to Active for insertion into the packs. The phrase "Sketch Card" appears on the wrappers.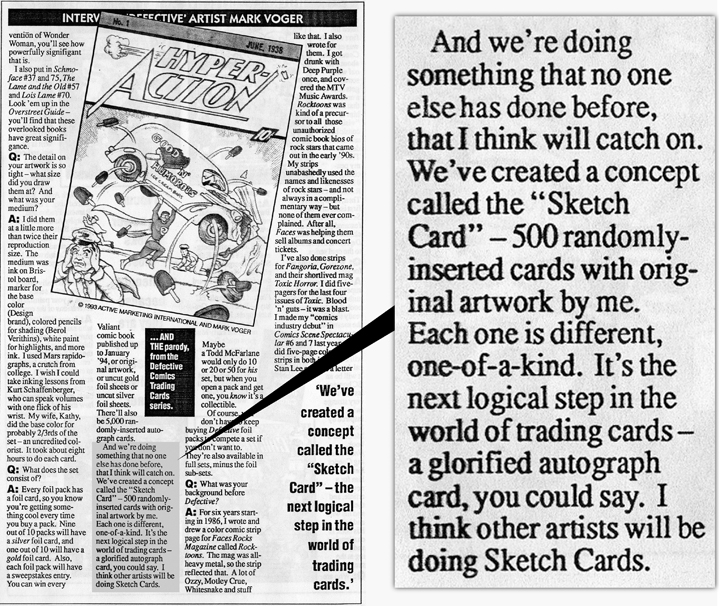 Why am I writing about this now, 27 years after the fact? For one thing, my story never got out. In 1993, I sent a four-page press release to all of the comics-themed publications of the day, but never heard back. Then, over the years, I began to notice other claimants to the title "Creator of the Sketch Card."
But the strongest impetus came last year, when I was contacted by a Sketch Card expert and collector. (This was not unusual; Defective Comics foil packs and complete boxed sets have been sold on eBay for decades now, and every once in a while, a purchaser will find me.)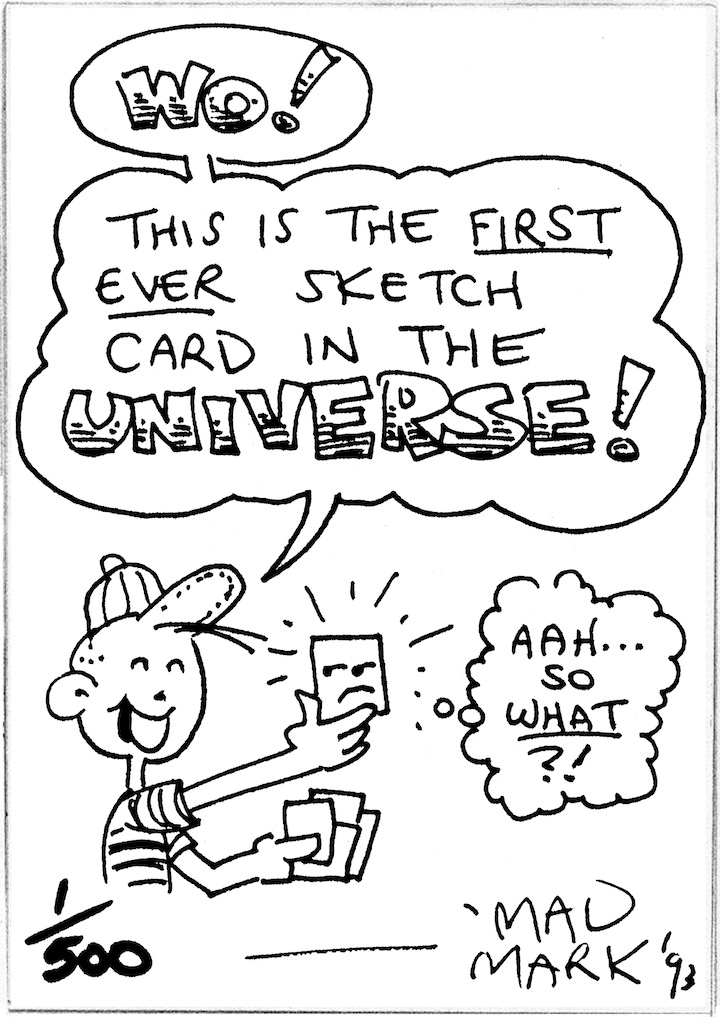 This person, who wishes to remain anonymous, wanted to know if I, personally, came up with the Sketch Card concept, or if Active Marketing conceived of the idea and hired me to execute it. The idea was my baby, I told this gentleman. And I had a few questions for him, too. His answers – informed by his many years of researching and collecting – convinced me of what I, in my heart of hearts, have believed since 1993. As I write in Back Issue #120:
He identifies Defective as, plain and simple, the first series to name, produce and market the Sketch Card, which he considers the "big bang" of the format.
Yet another impetus: While Googling around, I noticed some misinformation about Defective in Sketch Card blogs. I don't blame the bloggers; like I said, my story never got out. The Back Issue piece is, hopefully, a first step toward correcting this.
I have a lot more to share on the subject – I kept all the receipts – so please stay tuned to this space. But no matter what, if I get run over by a Mack Truck tomorrow, at least I got my version of events out there. (Being Irish and superstitious, I'll be awfully sorry tomorrow when I am indeed flattened by that truck.)
P.S.: Since going public with my side of the story in Back Issue #120 (June 2020), the Sketch Card community has begun to take notice.