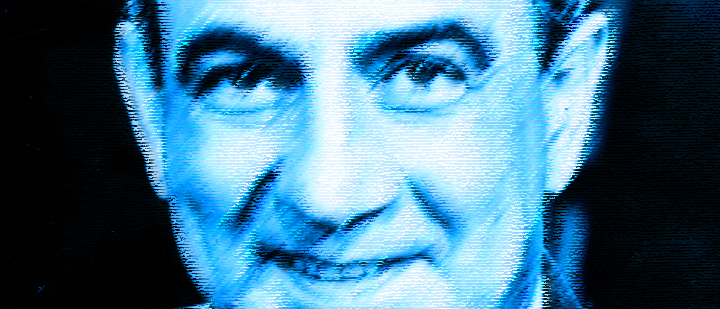 Philly icon's movie-star turn
I recently did a deep dive into Paul Wendkos' riveting 1957 noir "The Burglar" starring Dan Duryea and Jayne Mansfield, which was largely filmed on location in Philadelphia and Atlantic City. (Read my musings HERE.) At the end of the piece, I let it drop that I once met a cast member of the film. (My only hint: It wasn't Mansfield.) Well, the suspense is over: It was John Facenda.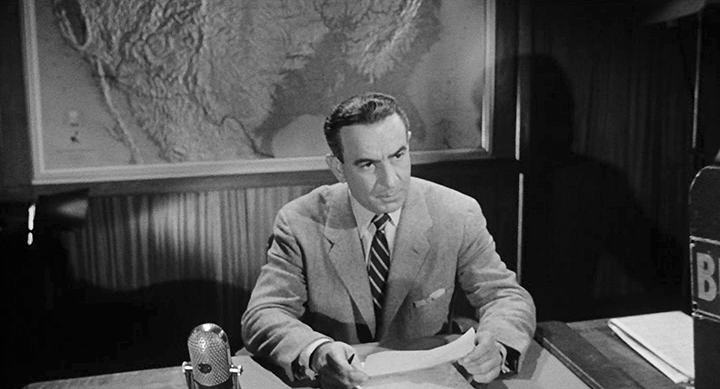 I grew up watching the Philly broadcasting icon (and fondly remembered voice of NFL Films) on Channel 10, Philadelphia's CBS affiliate. Facenda not only played himself in "The Burglar," he is a plot point mentioned several times. The story centers around the theft of a priceless necklace. The heist is predicated on the fact that the necklace's owner (Phoebe Mackay) never misses Facenda's nightly 15-minute broadcast. Facenda is name-checked by Mansfield, as well as actor Peter Capell (playing a member of Duryea's gang).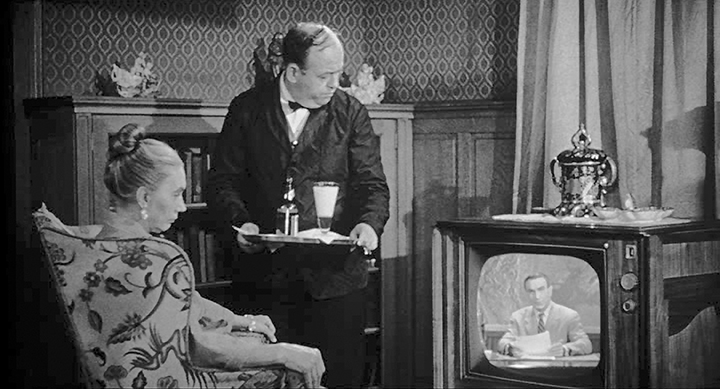 It's very meta, especially given the movie's set-in-Philadelphia angle. Facenda is seen reading the news in a television studio, and then on a TV set being watched by Mackay and her butler (actor unidentified). In a wordless, blink-and-you-miss-it bit, the butler serves a glass of beer (3/4 of which is foam) to Mackay, but she wisely takes the bottle instead. The butler then drinks from the glass. (The darkly serious "The Burglar" is not without its comedic moments.)
Facenda broke into broadcasting as a reporter for a radio station operated by the Public Ledger, a Philadelphia-based newspaper which ceased publishing in 1942. He was WCAU's anchorman from the 1950s through 1973. His rich, deep voice earned him the nickname "the voice of God." My dad watched him faithfully.
But I must be honest — most of my memories of watching Facenda were of waiting for "The CBS Late Movie" (which came on next at 11:30 p.m.), on those occasions when CBS would show a (more or less) contemporary horror film. This usually happened on Friday nights. At the end of his broadcasts, Facenda would promo whatever movie CBS was airing, as in "Stay tuned for …" (All the affiliates did this.)
But when it was a horror film, Facenda always chuckled, and you sometimes heard an off-camera studio hand likewise laughing. (The implication was that nobody in that studio respected horror films one iota). As a horror fan, I was not insulted. It only heightened the anticipation. Back then, grownups usually looked down their noses at horror movies.
One instance I distinctly — distinctly — recall was the television premiere, in 1973, of the 1968 British film "Frankenstein Must Be Destroyed" starring Peter Cushing, which Facenda simply called, laughing, "Frankenstein." (Don't bet me on this. I remember.)
So when did I meet John Facenda? Well, it's not a story with a big payoff. Or even a story. This was in Cape May, New Jersey, in the summertime. I figure the year to be 1971, when I was 13. My family, plus my Aunt Peggy from Long Island's family, were on a vacation. One evening — it was still light out — we all went out to dinner following a day of sand and surf. My mom spotted Facenda having a drink and a cigarette at the restaurant bar. She knew I was a TV freak, and dragged me over to meet him. (I'm grateful she did.) Facenda was wearing a jacket and tie, looking like he was ready to do a broadcast. He was very cordial to me, and said the classic, "I'm glad to meet you, Mark." But in that voice. Can you imagine? I wish I had asked him something probing about his career in journalism, but all I could eke out was, "Pleased to meet you, Mr. Facenda." (That's what my father always taught us to say when introduced to an adult.)
Forty-eight years later, when I saw Facenda in "The Burglar," I thought, "Oh, right, I once met that cat." End of non-story.
P.S.: I'm not crazy! Someone else remembers when the Friday-night edition of "The CBS Late Movie" carried a surprising preponderance of horror movies. (Someone in programming apparently thought Friday was a good night for horror. Which it is.) Read Greg Stevens' article about same, with a list of movies and airdates, HERE.
---
VIDEOS

For NFL Films, John Facenda reads Rudyard Kipling's poem "If —" accompanied by football footage. Did the guy have a voice or what?

To give you a feel for what I was discussing earlier — about how Facenda used to promo "The CBS Late Movie" — above is a 1972 clip from WBBM Channel 2 in Chicago promo-ing "Harum Scarum" starring Elvis Presley. The theme song and "star" graphics are precisely what I recall.
And here's a 1977 clip, from WAGA Channel 5 in Atlanta, of the "CBS Late Movie" intro for "Escape From the Planet of the Apes" starring Roddy McDowall and Kim Hunter. Brings it all back.