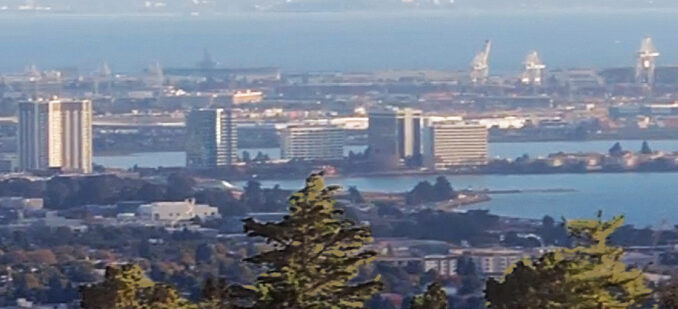 The hills have views
This is the second of five posts about my recent Jersey-to-California road trip.
---
By Mark Voger, author
'Britmania: The British Invasion of the Sixties in Pop Culture'
---
As we neared our destination, we passed through Sacramento (sometimes pronounced "Sac-a-menna" locally); Folsom (home of Folsom State Prison, which inspired the Johnny Cash song "Folsom Prison Blues"); and Livermore (where the Rolling Stones infamous Altamont free concert took place). Once we arrived, we generally hung out in Oakland, El Cerrito and Berkeley, with a trip to San Francisco.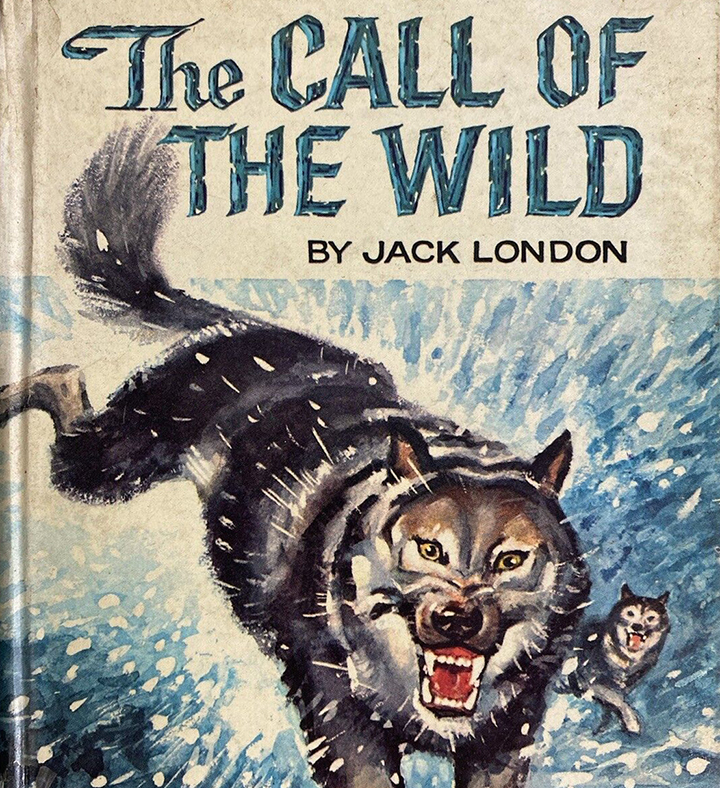 In Oakland, we bought half a Seven-Up pound cake (the best) at It's All Good, a bakery on Martin Luther King Way which was the original headquarters of the Black Panthers.
We also saw Jack London Square. The author of "The Call of the Wild" and "White Fang" had significant history in Oakland. (By some serendipity, I was currently reading "The Call of the Wild," which I found for free at one of those book-trading cabinets at a bus stop in El Cerrito. What luck!)
The hills of Oakland and El Cerrito are sometimes treacherous to navigate via automobile — to a Jersey boy like me, not the locals — but they provide views that can often be called spectacular.
I would walk through hilly El Cerrito, sometimes pausing to catch my breath, to Arlington Park, a lovely little spot with a duck pond and tennis courts at which I finished reading "The Call of the Wild." (Spoiler: Buck hears and answers the call of the wild.)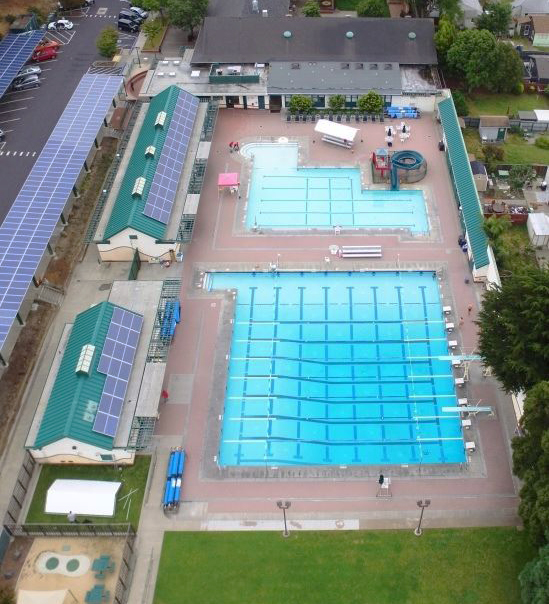 On five occasions, I swam laps at El Cerrito Swim Center, with its massively wide 25-yard salt-water lap pool that can accommodate up to 316 swimmers. Some lanes are as deep as 13 feet. (The deeper lanes are coveted by so-called master swimmers.) You felt more bouyant in the salt water, which was lightly heated, just enough to take out the early autumn chill.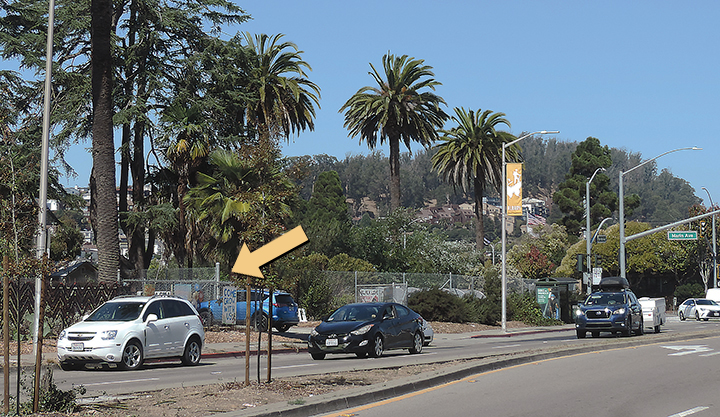 In Berkeley, we acquired mood-altering powders at the Lhasa Karnak Herb Co. (est. 1970) on Shattuck Avenue; and found gorgeous produce at the venerable Berkeley Bowl (est. 1977), the Berkeley Farmers Market, and a hippie-ish community farm in nearby Albany.
"Black Lives Matter" signs were everywhere in Berkeley, in the windows of businesses and residences alike. One abode had a sign I'd never seen before: "Lock Him Up." In nearby Emeryville, we cruised by bustling Pixar Animation Studios (at this location since 2000).
---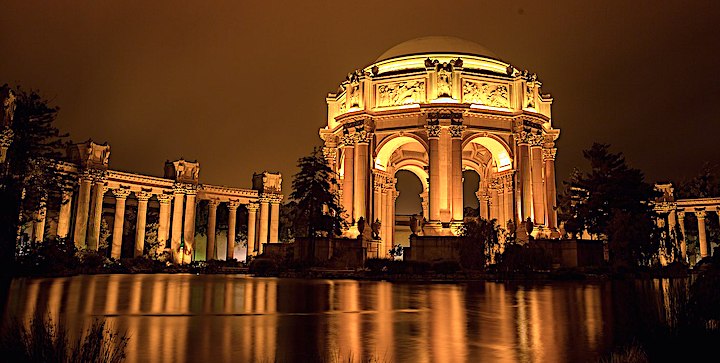 Architectural marvel
On a breezy, foggy night in San Francisco, we visited an architectural marvel, the Palace of Fine Arts, which was thoroughly lit so visitors would not miss a single flourish. The braying of nearby foghorns only added to the mystery of this place. We passed by Alcatraz and the Golden Gate Bridge, but could see neither, so thick was the fog. We came and left via the Bay Bridge, a feat of innovative lighting design. You were awestruck whether crossing the bridge or seeing it from afar.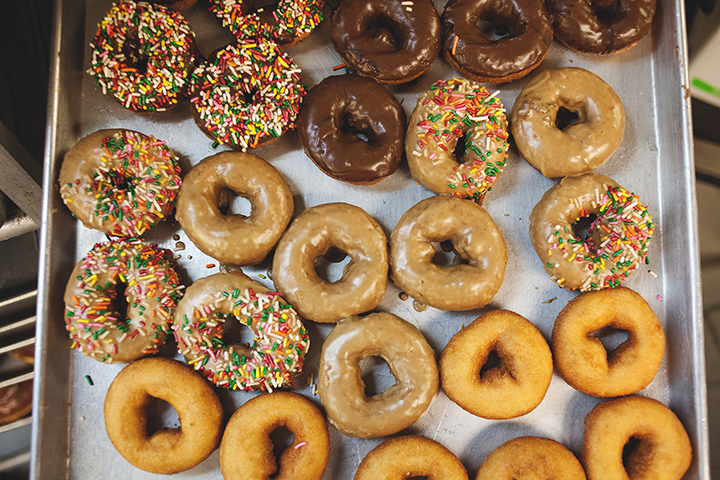 A pop-culinary marvel was Bob's Donut and Pastry Shop, a 24-hour operation on Polk St. (There's another one on Baker St.) The line was long but moved quickly. (Any opportunity for this old codger to hang out with young hipsters, I'll gladly take.) Among the many varieties were the wildest "stunt" donuts I've ever laid eyes on: classic donuts which resembled props from "Land of the Giants" at about triple the size.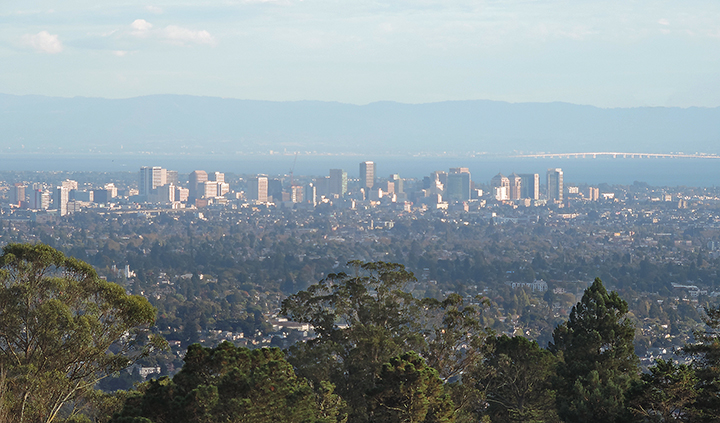 My humble takeaway: I loved seeing the breathtaking views, landmarks, architectural innovation, and wild, unchecked flora. I'd be a fit old man if I walked those hills every day. But driving an automobile through them would shorten what time I've got left. Even as a mere passenger, I was in need of tranquilizing.
---
VIDEO
---
More about the trek

Read about the journey west HERE.
Read about a Black Panthers landmark HERE.
Read about America the ugly HERE.
Read about America the beautiful HERE.
---