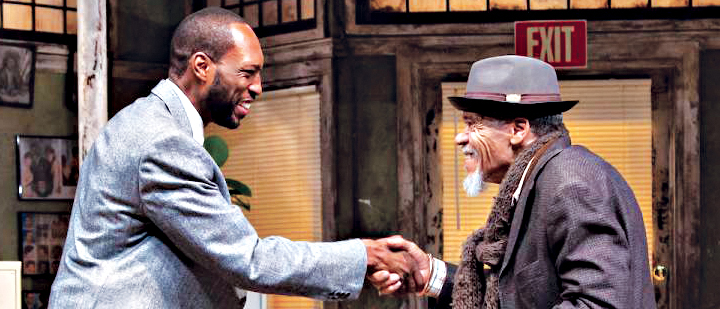 BLOGGER'S NOTE: In the innocent time that was March 1, 2020, I actually attended a play at a theater. Can you imagine? Following is my review of a fine production that, alas, didn't get to finish its run, due to the global pandemic. Some day, theatergoers, actors and directors will reassemble. Hang in there.
Wilson's swan song in Red Bank
By Mark Voger, author
"Groovy: When Flower Power Bloomed in Pop Culture"
---
It's the 1990s through the lens of August Wilson.
Two River Theater in Red Bank, NJ, continues on its pledge to produce all 10 plays in Wilson's American Century Cycle depicting black life in America with "Radio Golf," which began performances on Feb. 29.
The production is directed by Obie-winning actor-director Brandon J. Dirden, a fixture on New York stages and at Two River. (I'll never forget his Martin Luther King Jr. in the Tony-winning drama "All the Way.")

Each of Wilson's Century Cycle plays are set in a different decade of the 20th century. "Radio Golf," the cycle's final play (and the swan song of the playwright, who died in 2005), tackles the '90s.
It's 1997 in the Hill District of Pittsburgh (where Wilson grew up), and we are introduced to three young professionals on the rise. Harmond Wilks (Carl Hendrick Louis) is spearheading a redevelopment plan while eyeing a mayoral run which, if successful, would make him the first black mayor of Pittsburgh.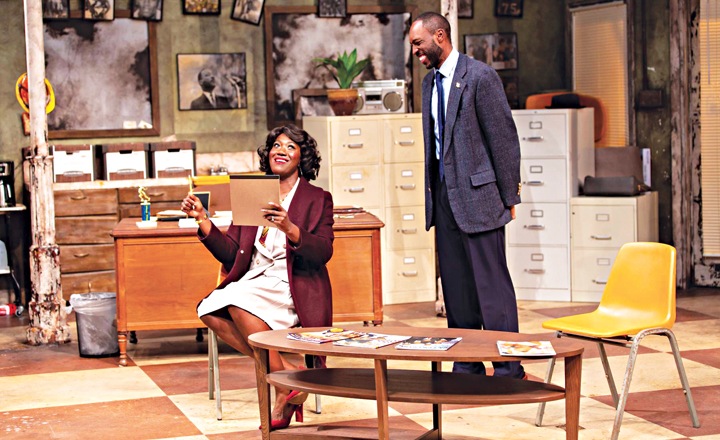 His wife, Mame (Amber Iman), is up for a job with the governor while running Harmond's campaign with a tight rein.
Roosevelt Hicks (Robbie Williams) is Harmond's partner in the redevelopment plan, which would bring a Whole Foods, a Starbucks, a Barnes & Noble and a modern medical center to this long-blighted area.
In fact, Harmond and Roosevelt are counting on the section being officially designated as "blighted," which would bring in federal money.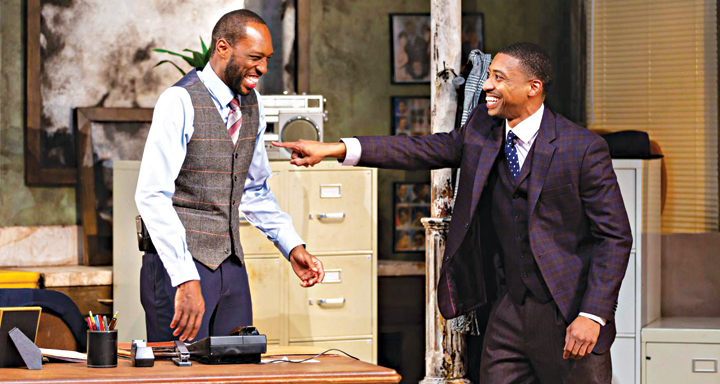 Mame is not impressed with the office space – the term is used loosely – in which Harmond has set up shop. It's a dilapidated mess in an iffy part of town. The windows haven't been cleaned in decades. A broken-down, trash-picked barber chair on the premises is used as a lounger.
Two unexpected visitors to the office represent much. Old Joe (Wayne DeHart) is, at best, a rambling senior citizen, or, if you're being less generous, a might touched in the head. Joe has been painting an abandoned house that is slated for demolition under the redevelopment plan, to the consternation of Harmond and Roosevelt.
The second visitor is Sterling (Nathan James), an off-the-grid handyman seeking work who, it turns out, has history with Harmond; in high school, Sterling ran with Harmond's twin brother, who was killed in Vietnam.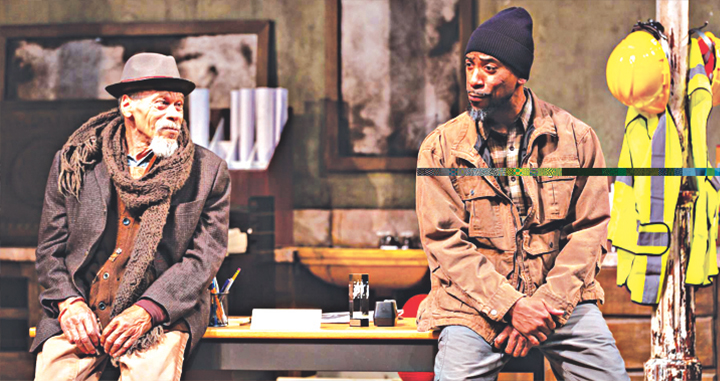 "Radio Golf" is one in a wave of productions, from the seismic rumblings of "Do the Right Thing" through "Blindspotting," to explore the complicated implications of gentrification – the rich getting richer, the poor getting displaced, all in the name of "improvement."
Wilson's knack for inventing characters, and his ear for dialogue, remain unsurpassed. Two Rivers' production, with its impeccable cast, eye-candy set design (by Edward E. Haynes Jr.), ear-candy sound design (by Kay Richardson) and sharp pace, brings alive Wilson's words and ideas.
AUGUST WILSON'S 'RADIO GOLF'
Where: Two River Theater, 21 Bridge Ave., Red Bank
Contact: 732-345-1400 or tworivertheater.org
---
TRAILER
CAST INTERVIEWS