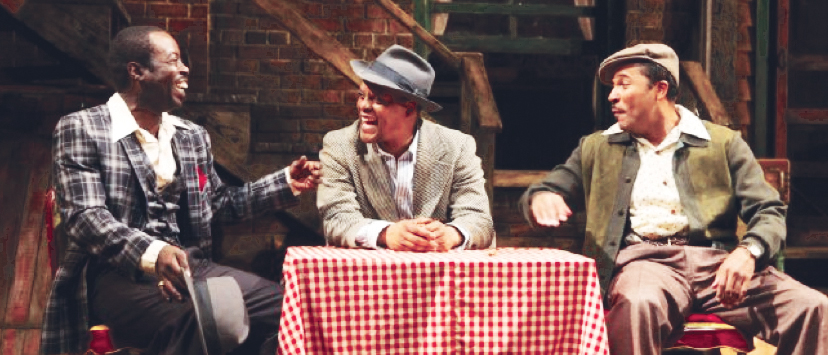 Celebration, grief and the blues
By Mark Voger, author, "Monster Mash: The Creepy, Kooky Monster Craze in America 1957-1972″
A crackerjack cast. A gorgeous set. And the poetic, you'll-laugh-you'll-cry prose of August Wilson.
What more could you ask from a theatrical experience?
This is in store for patrons of Two River Theater's production of August Wilson's "Seven Guitars," which kicked off Sept. 12 at the Red Bank venue, and runs for one more week, through Oct. 4. (I attended yesterday's show.)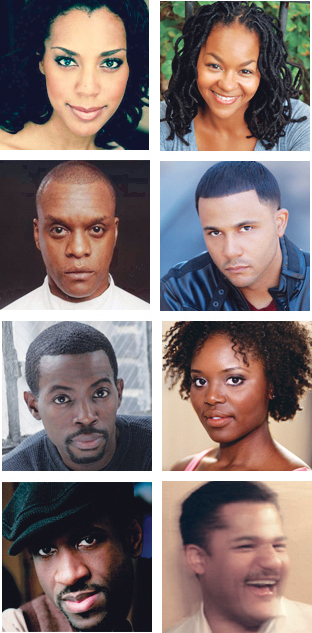 At its best, theater transports us, inspires us, unites us. This production, directed by Brandon J. Dirden, achieves all of that. The cast is more than equal to the daunting task of bringing alive Wilson's torrents of dialogue. And these actors' characterizations will stay with you.
Dirden is no stranger to Wilson or Two River. He made his professional debut at age 11 in 1990 in Wilson's "Joe Turner's Come and Gone," and won an Obie for Wilson's "The Piano Lesson" in 2012. As for Two River, Dirden acted in two previous productions ("Top Dog/Underdog," "Your Blues Ain't Sweet Like Mine"), and is making his directorial debut with "Seven Guitars."
(Dirden is best known for his portrayal of Martin Luther King Jr. on Broadway in the Tony-winning 2014 drama "All the Way," opposite Bryan Cranston as Lyndon Johnson. I interviewed Dirden about directing "Seven Guitars" for The Star-Ledger; read it HERE.)
"Seven Guitars" — one of 10 works in Wilson's "Century Cycle" of plays set in each decade from the 1900s through the 1990s — takes place in the Hill District of Pittsburgh in the itchy, post-war period of 1948.
Down-on-his-luck blues singer Floyd "Schoolboy" Barton (Kevin Mambo) holds what he hopes to be a magic ticket to rebuilding his life, following a long incarceration on a work farm for vagrancy. It's a letter from his record company in Chicago, inviting him back to the studio following the promising performance of his earlier released song, "That's All Right."
Floyd wants to resume his music career, but even more so, he wants to resume his relationship with Vera (Christina Acosta Robinson), who still bears the emotional scars after Floyd walked out on her for another woman. Floyd promises never to hurt her again. Vera is having none of it.
The Floyd/Vera dramatics unfold before the denizens who gather behind a weathered brick building of rented rooms to hang out, eat, drink, smoke, play cards, fight, boast, scheme, reminisce and laugh — especially to laugh.
Louise (Crystal A. Dickinson, wife of Dirden) is a feisty, suffer-no-fools hairdresser who calls herself "48 going on 60." Not one to internalize, Louise advises Vera that Floyd may mean well, but ultimately, he is not a "good man." Louise can only watch as Vera is inexorably drawn back to Floyd's powerful charm.
Canewell (Jason Dirden, brother of Brandon) is a slick operator with an ever-ready switchblade who plays harmonica for Floyd and, in subtle ways, looks out for Vera. Red Carter (Charlie Hudson III) is a hustler, a natural-born comedian and a self-described Romeo who says he once juggled seven women, one for each day of the week. Man, does Red get duded up (all in red, natch) when he plays drums for Floyd at a Mother's Day dance.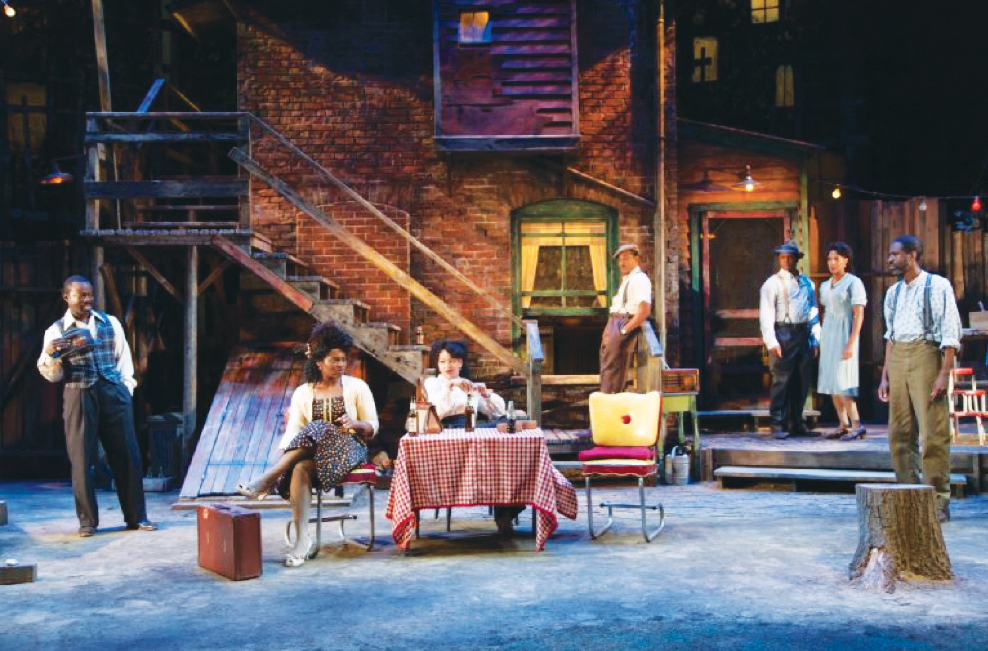 Hedley (Brian D. Coats) is the "not right" member of this tight-knit group. He coughs up blood constantly; talks in non-sequiters; darts in and out of a rickety cellar; never stops fussing with his eggs and chickens and unlicensed cigarette sales; and babbles about his father's unfair life and death, his dream to own a plantation (improbably, in Pittsburgh), and being an uncrowned king in a white man's empire.
A surprise visitor to the group is brash young fashionplate Ruby (Brittany Bellizeare), Louise's niece who promptly catches the eye of every man within ogling distance — even Hedley.
I came away remembering Robinson's wounded voice and wary, weary gaze … Mambo's alternating bluster and pleading … Jason Dirden's smooth bravado … Coats' haunting portrayal of a lost man … and Bellizeare's sultry walk down the steps, in white stockings and clunky heels, toward something we know is wrong.
But mostly — call me a sucker for the ironic juxtaposition of humor — I remember Dickinson and Hudson making us laugh and laugh, even in the midst of tragedy.
Running themes are played for comedy (the "cock-a-doodle-doo" of a neighbor's rooster) and heavy symbolism (a radio broadcast of a Joe Louis fight). You could just sit and stare at Michael Carnahan's set, a beguiling mix of authentic, practical details (worn brickwork, battered gutters, a rusted roof, a "bottle tree") and impressionistic art (other buildings in the distance). Every cast member gets a showcase, courtesy of Wilson. And every one nails it.
"Seven Guitars" is about the push-and-pull of a small community. It's about how we can say terrible things to the people we love one minute, and be forgiven the next. It's about promises made and broken. It's about celebration and grief. It's about the fleetingness of life and the permanence of mortality.
As you watch this production, you are swept away. But part of you can't help thinking about your own life, and how you might atone, and carry on, after the final bow.
AUGUST WILSON'S 'SEVEN GUITARS'
Remaining shows: Sept. 30 and Oct. 1-4
Where: Two River Theater, 21 Bridge Ave., Red Bank
How much: $20-$65
Contact: 732-345-1400 or tworivertheater.org
View 34-page "Monster Mash" preview
Order "Monster Mash"