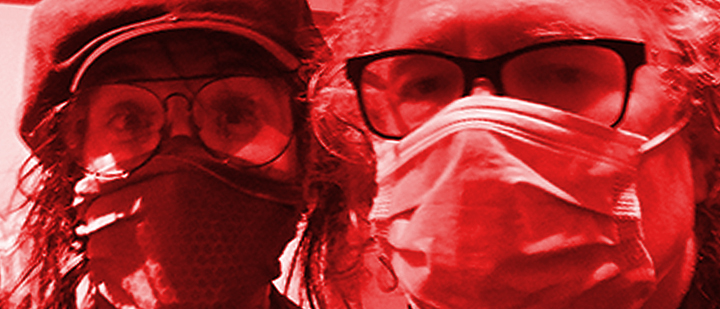 Masked up for merriment
Hey, I was on the Dec. 20, 2020 episode of "The Electric Ballroom," 95.9 WRAT's Sunday night rock 'n' chat show hosted by the one, the only, Keith Roth.
"Keef," bless him, had me on to talk about my new book "Holly Jolly: Celebrating Christmas Past in Pop Culture" (TwoMorrows Publishing). We masked up and did it in person — my only non-Zoom promotional appearance of the season.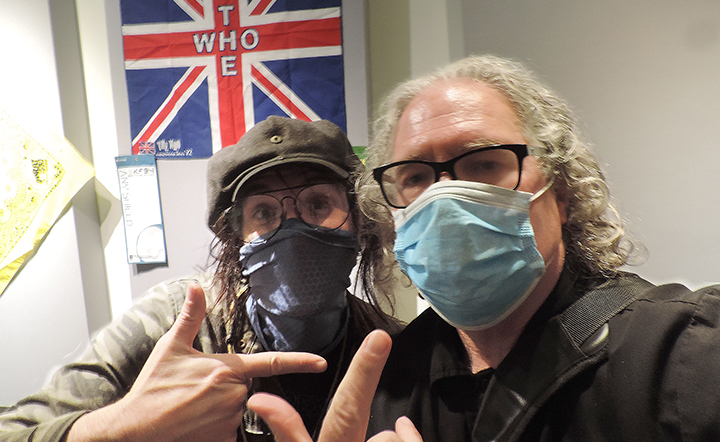 At Keith's invitation, I brought along a set list of some Christmas rockers. In the "Ballroom" spirit, I tried to keep the songs "eclectic." (In introducing the Spice Girls' cover of "Christmas Wrapping," I called it the "American radio debut" of the track. Can you name any other time you've heard it on the radio?)
Below is an edit of the show in six parts. Grab some Christmas cookies and hot chocolate, and have a listen!
---
PART 1
Contents: WRAT I.D. … Joey Ramone I.D. … early Roxy Music albums … my "meet cute" with Keith's onetime "Ballroom" co-host, Aimee Kristi … "Ballroom" memories, including the christening of The Joey Ramone Memorial Couch …
---
PART 2
Contents: My memories of being a South Jersey Catholic school boy growing up in a Jewish neighborhood … "the mean streets of Woodcrest" … Slade's Christmas classic of 1973 …
---
PART 3
Contents: Seeing the reunited Mott the Hoople at the Keswick … Keith: "Ian Hunter doesn't realize how old he is, and that's why he hasn't changed" … Christmas movies ("It's a Wonderful Life," "Miracle on 34th Street") …
---
PART 4
Contents: Lemmy I.D. … Earl Slick I.D. … David Bowie's deep-cut Roxy Music cover with Tin Star … Christmas TV episodes ("The Honeymooners," "The Brady Bunch") … animated TV specials ("A Charlie Brown Christmas," "How the Grinch Stole Christmas") …
---
PART 5
Contents: Yep, I dare to play the Spice Girls on "The Electric Ballroom" … The Alarm's "All Around the World It's Christmas Time" … Keith: "There was a point there before U2 exploded, where The Alarm and U2 were kind of neck-in-neck, goin' for that crown" …
---
PART 6
Contents: Bing Crosby's "White Christmas" … Keith plays our track "The Tower Dam" featuring Matt O'Ree on guitar and Sim "Sugar" Cain on percussion … "Have a good time all the time!"
---
… and to all a good night!