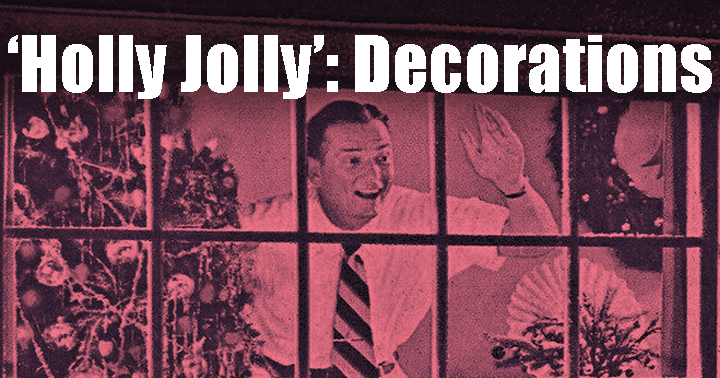 Following are excerpts from "Holly Jolly: Celebrating Christmas Past in Pop Culture" by Mark Voger ($43.95, TwoMorrows Publishing, ships Nov. 4).
PRE-ORDER "Holly Jolly" at TwoMorrows, Barnes & Noble, Amazon, and other online outlets.
---
Putting light on the subject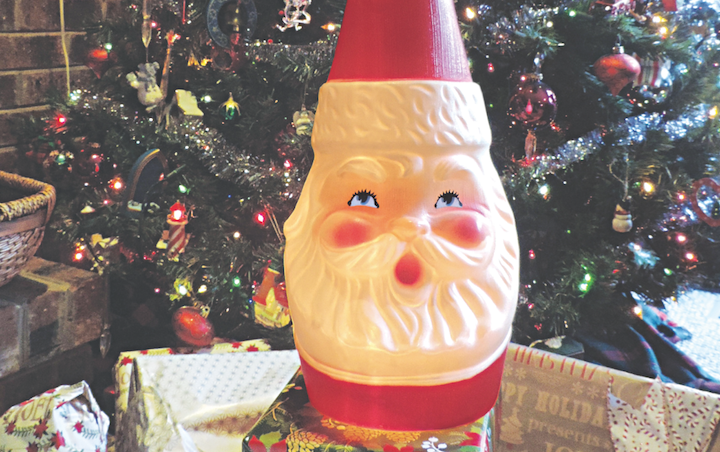 Is there anything Thomas Edison didn't innovate?
As if the light bulb, the phonograph and the movie camera weren't enough, Edison (1847-1931) invented electric stringed lights, which eventually became known and used as "Christmas lights."
In December 1880, the first electric stringed lights were hung outside of Edison's laboratory in Menlo Park, New Jersey. "These were his original incandescent lights, about 40 of them," said Leonard DeGraaf, archivist for Thomas Edison National Historical Park in New Jersey, in 2019. "Some were strung on poles outside the lab complex, some in windows. The initial public demonstration Edison put on was for report- ers and important financial people. He was under pressure to show these lamps and how they worked."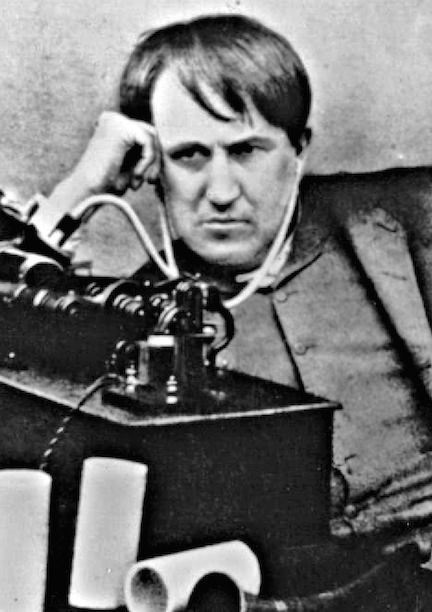 However, Edison's intention regarding the stringed lights wasn't necessarily as Christmas lights per se. "I haven't seen any sources that say it was an exclusive Christmas display, so to speak," DeGraaf said.
Two years later, an Edison business associate, Edward Hibberd Johnson (1846-1917), assembled the first string of electric Christmas tree lights. He wired the 80-bulb strand by hand using red, white and blue bulbs — placing it on a rotating tree, yet. Johnson first displayed the lighted tree on Dec. 22, 1882, in the parlor window of his home at 136 East 36th Street in New York City.
At first, electric Christmas lights were prohibitively expensive and required the services of electricians. But the lights were popularized by two U.S. presidents. In 1895, Grover Cleveland introduced a White House Christmas tree decorated with electric lights — more than 100 multi-colored light bulbs in all. In 1923, Calvin Coolidge upped that total considerably to 3,000 electric lights.
The mass-marketing of Christmas lights began in earnest in 1903, when Edison's company, General Electric, started promoting and selling affordable pre-assembled Christmas light kits.
---
Sparkle plenty: Christmas trees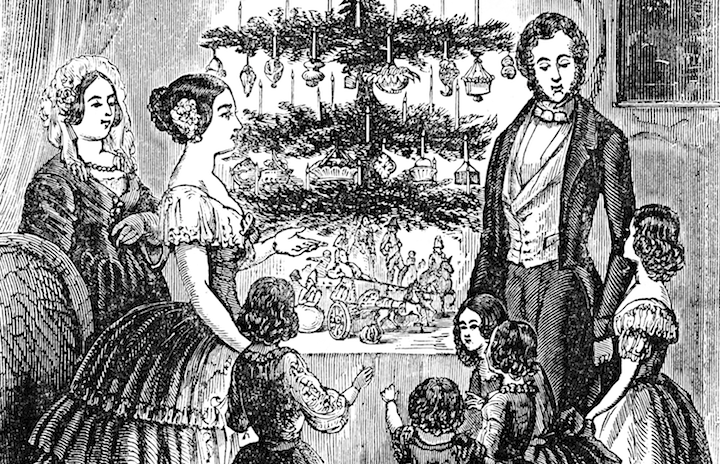 Politics, shmolitics. If you wanna ignite a heated conversation, just ask people their Christmas tree preferences. You start with: Real or fake? (Some folks wouldn't dream of sacrificing the outdoors-y scent of a fresh-cut evergreen for something that looks like a toilet brush; others don't like to vacuum brittle branch needles.)
Then you get into: Tinsel or garland? (Painstakingly hung tinsel looks magical; but garland goes on and off in a jiffy.)
From there, you talk about lighting, decorations, tradition, technology, and before you know it, you're no longer speaking.
Some history: Evergreen trees represented eternal life to some pre-Christianity civilizations … Christmas trees are believed to have originated in 16th-century Germany … the first such trees were adorned with fruit, nuts, paper decorations and "sweetmeats" … illumination via candlelight was added in the 18th century … artificial trees first appeared in 19th-century Germany, a response to deforestation and made with goose feathers painted green … the first known Christmas tree in America was erected in the 1830s in Pennsylvania by German settlers … in 1846, England's Queen Victoria and her family were depicted around a Christmas tree in an illustration in The London News … (Victoria grew up with trees decorated by her mother, German princess Victoria of Saxe-Coburg-Saalfeld) …
The growing popularity of Christmas trees coincided with the rise of mass production. The mid 1950s saw the fakest fake trees of all: aluminum Christmas trees, with rigid, tinsel-y "branches" stuck into a wooden pole painted silver, accompanied by rotating floor lamps that bathed the trees in orange, blue, red and green light. Their drop in popularity about 10 years later happened to coincide with the 1965 TV special "A Charlie Brown Christmas," in which Lucy instructs Charlie Brown: "Get the biggest aluminum tree you can find!" Instead, he gets a scrawny natural one.
---
Away in a manger (set)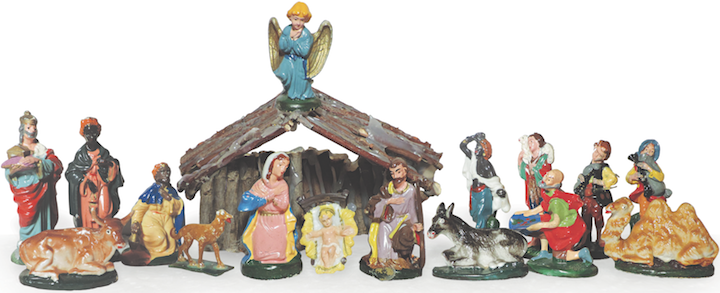 For the reverent, miniature Nativity sets are a way to acknowledge your faith within your holiday home decor. For little kids who don't know any better, Nativity sets can be — unintended sacrilege warning — play sets. The "cast" of Nativity sets (Baby Jesus, Mary, Joseph, the Wise Men, et al.) is as well known to many children as the casts of "Rudolph" or "The Grinch."
And like it or not, the First Noël was popularized in kid-targeted media. "The Little Drummer Boy," "Nestor the Long-Eared Donkey" and other TV programs depicted the Nativity in animation. So don't blame us kids for actually playing with Nativity sets — albeit, in more of a "holy" way, as opposed to a Barbie or a Captain Action way.
The mass-produced Nativity set shown above was ubiquitous in Christian households at Christmastime from the 1950s into the '70s. It was likely purchased from Sears, which marketed the easily recognizable set during the period. The tallest figure is 2.5 inches high.
Fancier households (with fancier money) sometimes opted for larger imported sets in those days, with Italy being a popular supplier. Nativity sets were often themselves decorated, augmented with snipped hay, evergreen sprigs, cotton (for "snow"), and animal figures from other types of sets such as zoo and train sets.
---


PRE-ORDER "Holly Jolly" at TwoMorrows, Barnes & Noble, Amazon, and other online outlets.