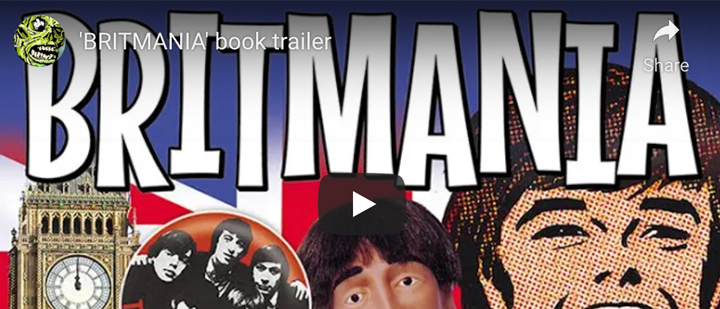 A time trip
I wouldn't call my nephew, filmmaker Ian Voglesong, an old soul. But at 34, he knows all the old stuff his father and uncle grew up with as well as we do. From his early love of Batman on, Ian has been a sponge. (He's read every Arthur Conan Doyle Sherlock Holmes story, something I've yet to accomplish. And time is running out.) So it's no wonder he nailed the vibe of the British Invasion with this, his fourth book trailer for me.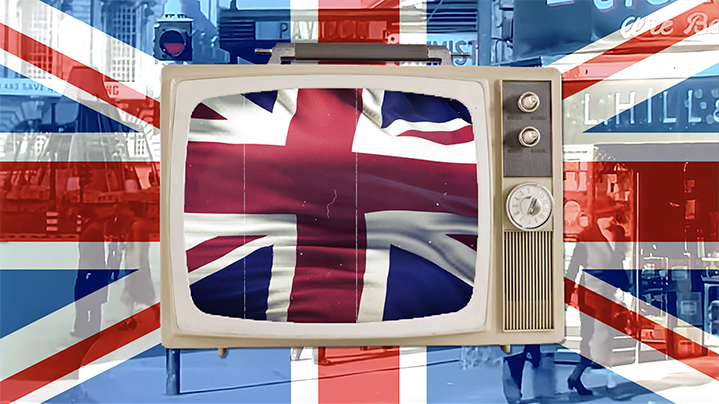 Starting with his brief prelude set to the strains of "Rule, Britannia!," Ian shows denizens of Olde London strolling beneath a superimposed Union Jack. Out pops a television with a waving Union Jack, all with a "dust and scratches" film effect (a thread that runs throughout the trailer). It's thematically appropriate because, after all, it was the "telly" (as the Brits call it) that brought the Beatles and their fellow invaders into American living rooms.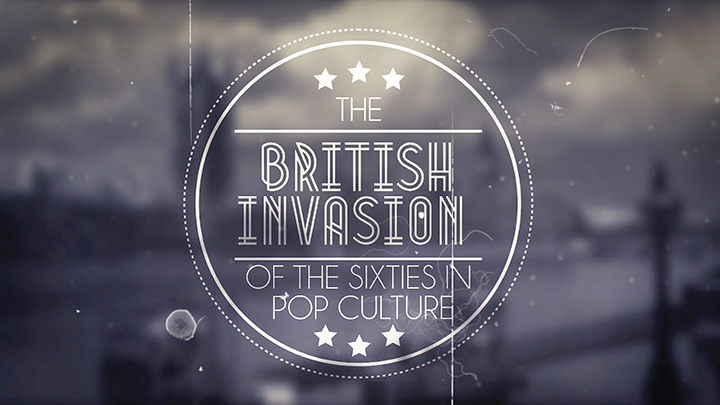 Ian created a type treatment of my subtitle over vintage footage of London Bridge. (Hmmm … I might have used that type if I had seen it in time.)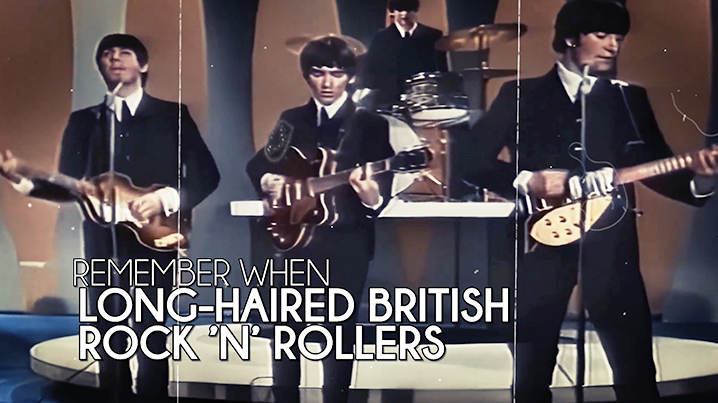 Just as a fresh arrangement of "My Bonnie" plays on the soundtrack — click HERE to learn how Ian's dad, Brian Voger, and I put the trailer theme together — Ian brings in the Fab Ones, and we're off.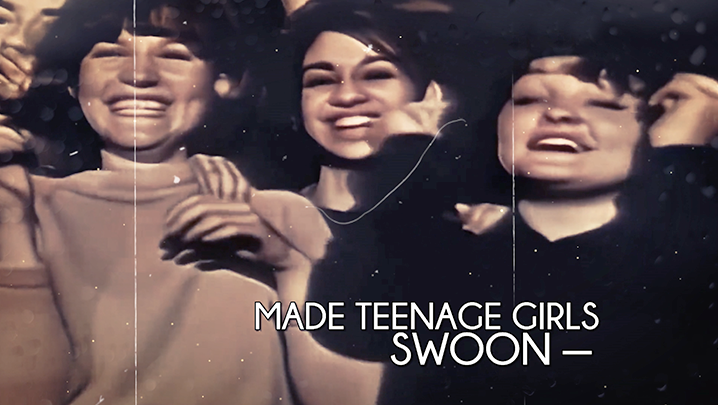 Throughout the trailer, he superimposes my marketing blurb over corresponding footage, as seen above. (BTW, I use the phrase "screaming girls" 12 times in "Britmania." An editor who proofread the book tried to convince me to bring that number down, lest it sound redundant. What can I say? That's kind of what I was going for. Y'see, I have these hillbilly tendencies.)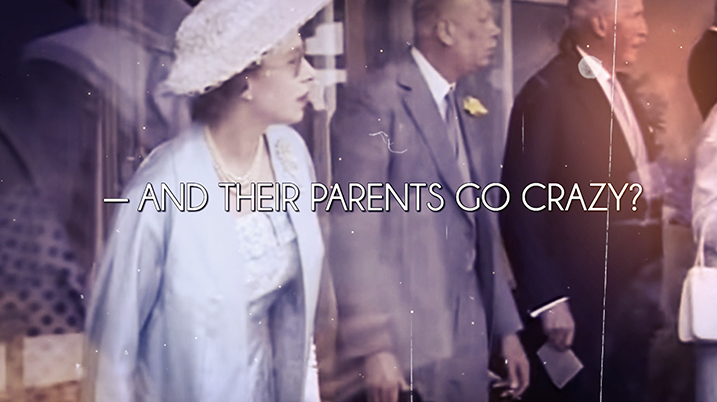 Good one! Ian positions Queen Elizabeth II beneath the line "their parents go crazy." The old guard's sometimes hostile reaction to British Invasion bands is a running theme throughout "Britmania."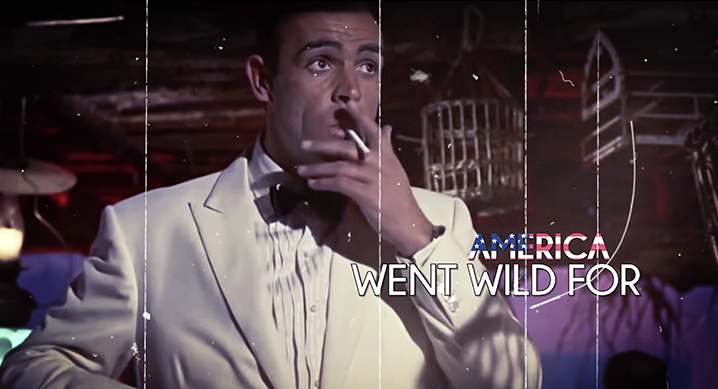 In the wake of the Beatles, England's cultural exports really took off in America. "Goldfinger," starring Sean Connery as James Bond 007, came out in 1964, the year the Beatles "invaded." In the film, Bond is heard to say: "My dear girl, there are some things that just aren't done; such as drinking Dom Perignon '53 above the temperature of 38 degrees Fahrenheit. That's as bad as listening to the Beatles without earmuffs." Above is a moment from that film.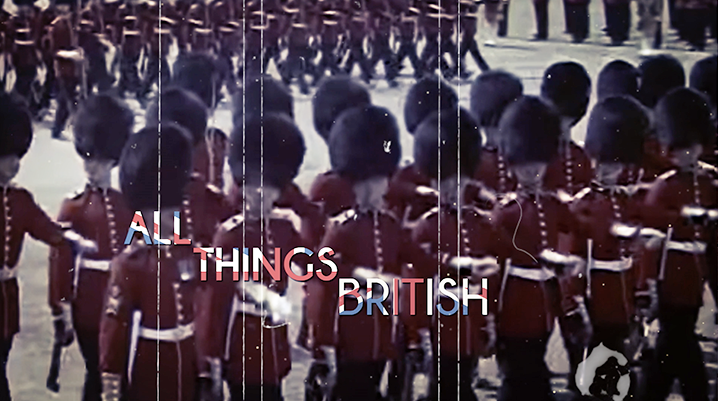 … leading into this pomp and circumstance. (We went for all the cliches. Tryin' to sell some books, yo!)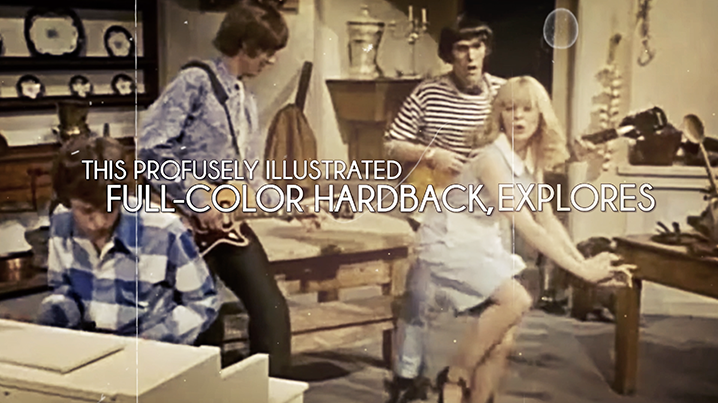 Can you identify this movie moment? It's from the 1966 spooky musical comedy "The Ghost Goes Gear" starring the Spencer Davis Group. (Yeah, I'd never heard of it either.) "GGG" was never released theatrically in the United States. In the foreground banging away on a beige piano is, no lie, Steve Winwood. Yeah, that guy. Before "Higher Love" and "Roll With it," there was "Gimme Some Lovin'" and "Sea of Joy."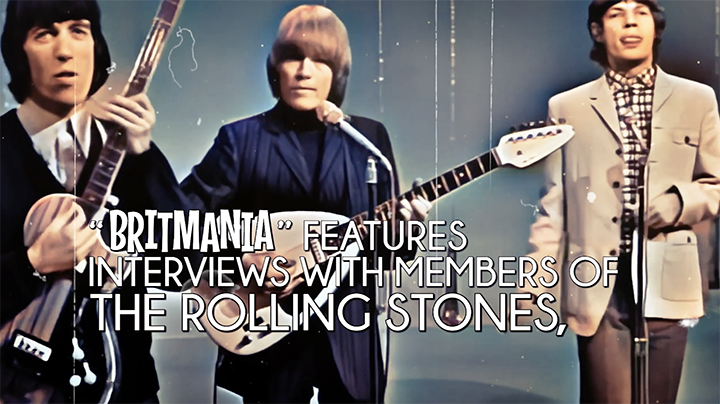 I always have a coupla "musts" for Ian. This time around, I told Ian that I needed to see Brian Jones making eye contact with the viewer. I can't explain why, other than that the talented, tragic Jones is like a ghost who haunted the project.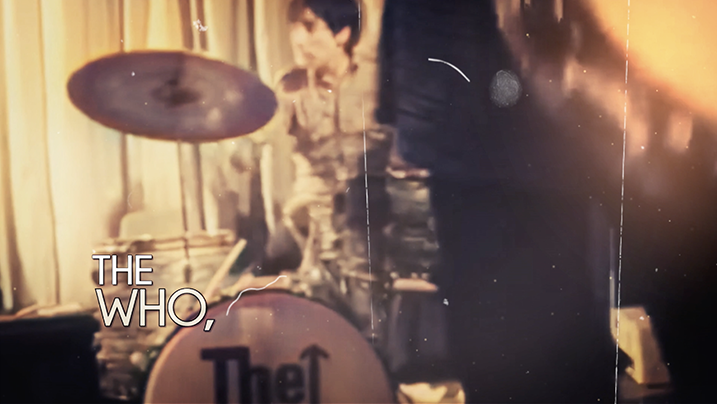 So was Keith Moon. Ian found this manic, ill-cropped moment, with Roger Daltrey's tambourine in the foreground.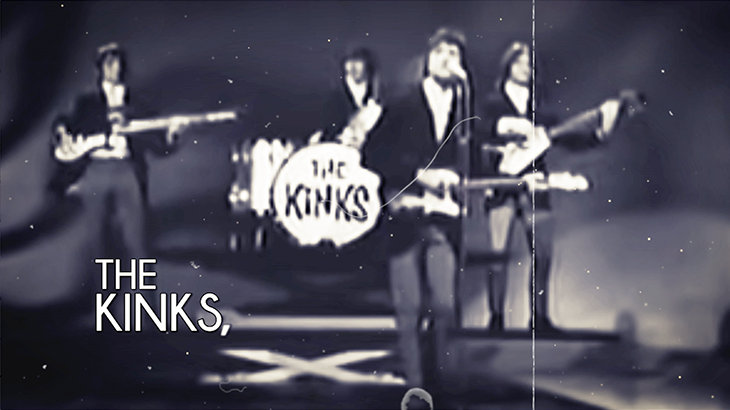 And these guys. The Beatles, the Rolling Stones, the Who and Kinks form the Mt. Rushmore of the British Invasion.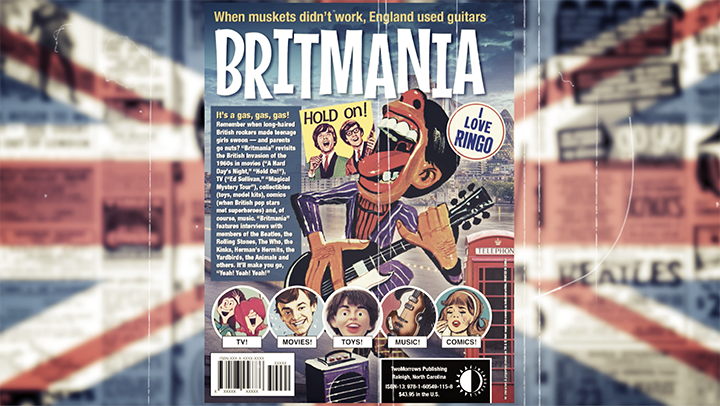 The trailer brings it home with this image of the back cover, which features the crazy artwork of Weird-Ohs creator Bill Campbell. Behind it are "Britmania" endpapers pages with the trusty superimposed Union Jack.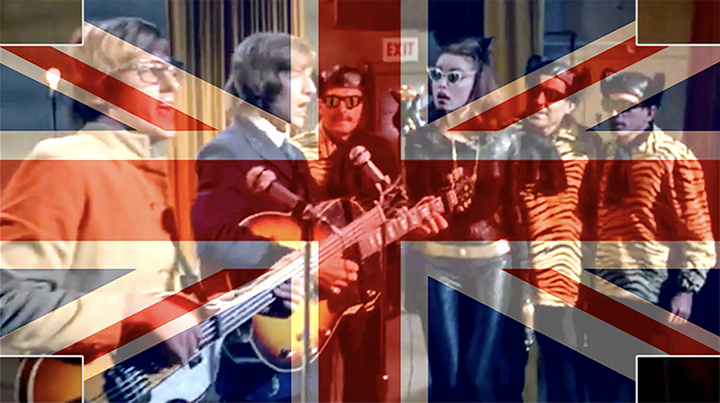 That's Chad and Jeremy playing themselves, alongside Julie Newmar as the Catwoman, in a 1966 episode of "Batman." (See this exact moment on page 93.) Chad Stuart once told me: "I know Jeremy was very enamored of Julie Newmar, but he didn't get anywhere with her. Oh, lordy."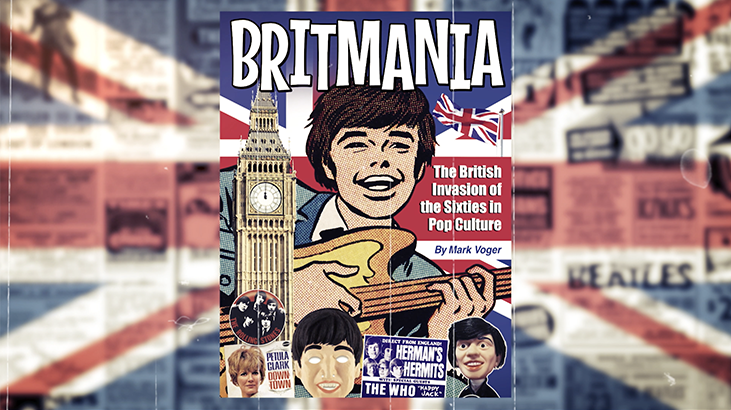 Anyway, I'm thrilled with how it turned out. Please check out the trailer below …
---
The trailer