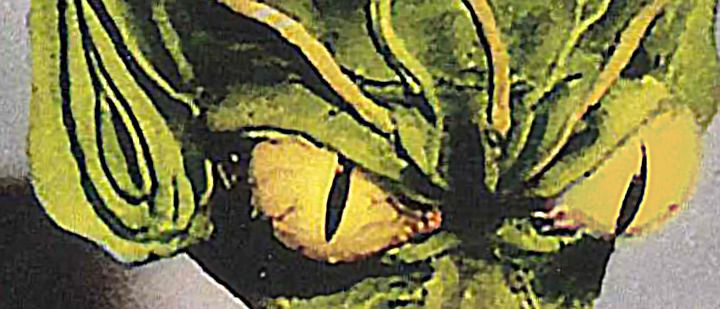 The ultimate B.E.M.s
When my generation of movie buffs were teenagers — this was pre-Internet, pre-tablet, pre-DVD, and pre-VHS — we would devour the weekly TV inserts of the Sunday newspaper (in my case, that of The Philadelphia Inquirer) for their movie listings, in order to circle desired movies for the coming week's viewing. These listings reliably included a given movie's title, year, its two top-billed cast members, and a one-sentence synopsis. Don't ask me why, but from years of studying these listings, the names Steve Terrell and Gloria Castillo have always stuck in my head. They were the stars of Edward L. Cahn's "Invasion of the Saucer Men."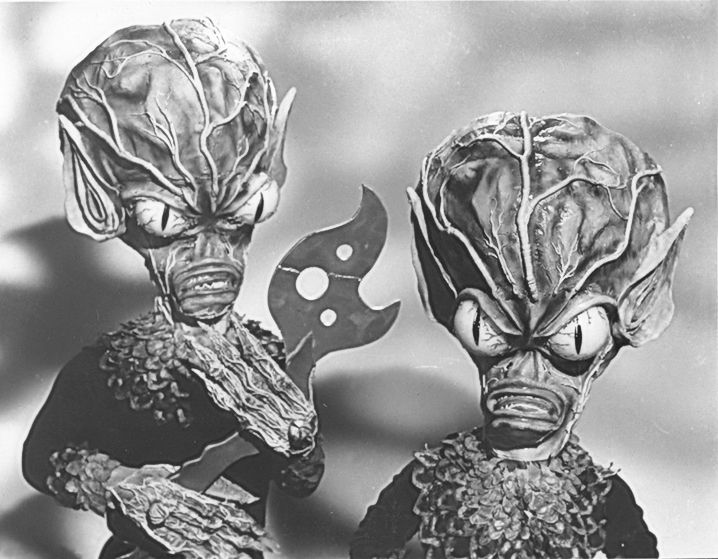 Offhand, I couldn't name another movie with Steve Terrell or Gloria Castillo. But that was the glory of American International Pictures in those days. This scrappy independent could cast unknowns, because it was their films' lurid titles and advertising campaigns that attracted moviegoers, not their star power. Put it this way: Clark Gable was still making movies then, but not ones titled "Invasion of the Saucer Men."
Despite the film's sensationalistic title and movie posters, which seem to promise an almost "Mars Attacks" type of serious, well-funded film, "Saucer Men" is a low-budget sci-fi comedy. (There are only four Saucer Men costumes.) And it's a youth comedy at that. Steve and Gloria — I'm finally on a first-name basis with these two — play cute, horny kids who are trying to get to Lovers' Lane, but whose plans are spoiled by veiny, bubble-brained aliens. Lyn Osborn (Cadet Happy on "Space Patrol") and Frank Gorshin (the Riddler on "Batman") play passing-through-town ne'er-do-wells also caught up in the invasion.
Sadly, Osborn died the following year at age 32 after having surgery for a brain tumor. He was a comic player in the Leo Gorcey tradition, and wore an up-to-the-minute 1957 flattop in "Invasion of the Saucer Men."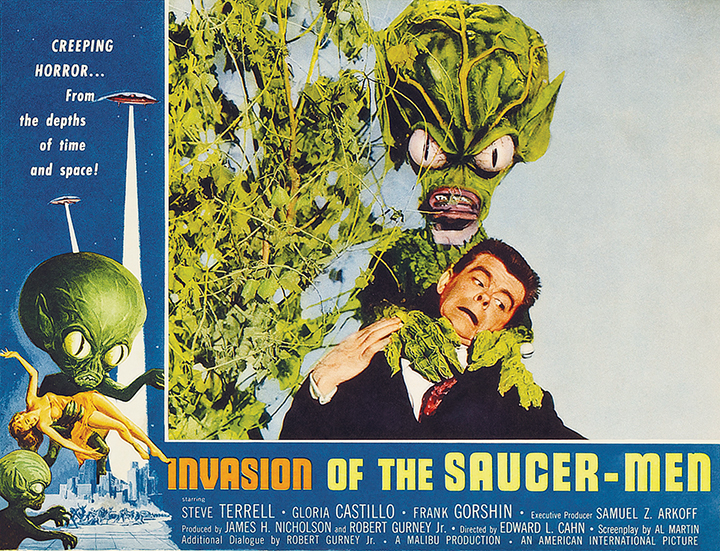 The movie is fun and funny, and only the third of AIP's many youth comedies (after "Hot Rod Girl" and "Rock All Night"), making it a forerunner of the Frankie Avalon–Annette Funicello "Beach Party" series. So that's something.
The cool-lookin' aliens were created by Paul Blaisdell, who also gave us the title being in "The She Creature." Blaisdell's Saucer Men deftly walk a fine stylistic line. They qualify as hideous B.E.M.s — that is, "Bug-Eyed Monsters," which were a thing in '50s sci-fi and horror. But they're also hilarious little fellas. They look like something Wally Wood would have drawn for Al Feldstein.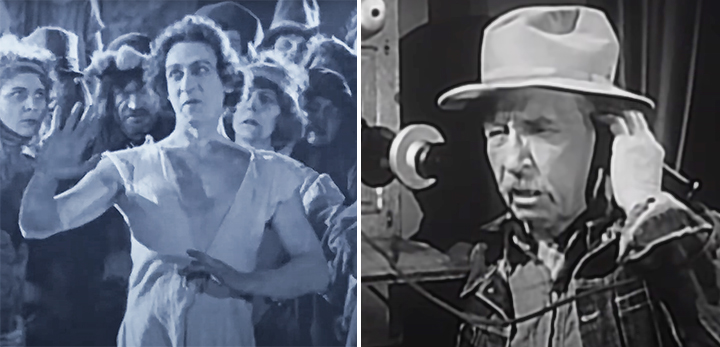 Does the old-timer who played Mr. Larkin, the cantankerous, shotgun-toting farmer who complains about "them smoochin' kids" on his land, look familiar? He oughtta. That's Raymond Hatton, a veteran movie actor (Westerns, a specialty) who goes back to the silent days. Matter o'fact, Hatton had a standout role in the 1923 "Hunchback of Notre Dame" starring Lon Chaney Sr., scoring laughs as foppy Gringoire. Think of it. When teeny-boppers went to see "Invasion of the Saucer Men" at the drive-in in 1957, they had no idea that a guy from ancient genre history was in the movie! 'Coz said teeny-boppers were busy smoochin'.
P.S.: It turns out that Gloria Castillo made her film debut as one of the children terrorized by Robert Mitchum in Charles Laughton's noir thriller "Night of the Hunter" (1955). Shame on me!
---
'INVASION OF THE SAUCER-MEN'
Starring Steve Terrell as Johnny Carter; Gloria Castillo as Joan Hayden; Frank Gorshin as Joe Gruen; Lyn Osborn as Artie Burns; and Raymond Hatton as Mr. Larkin
Written by Robert J. Gurney Jr. and Al Martin
Cinematography by Frederick E. West
Produced by James H. Nicholson and Gurney
Directed by Edward L. Cahn
[American International Pictures]
---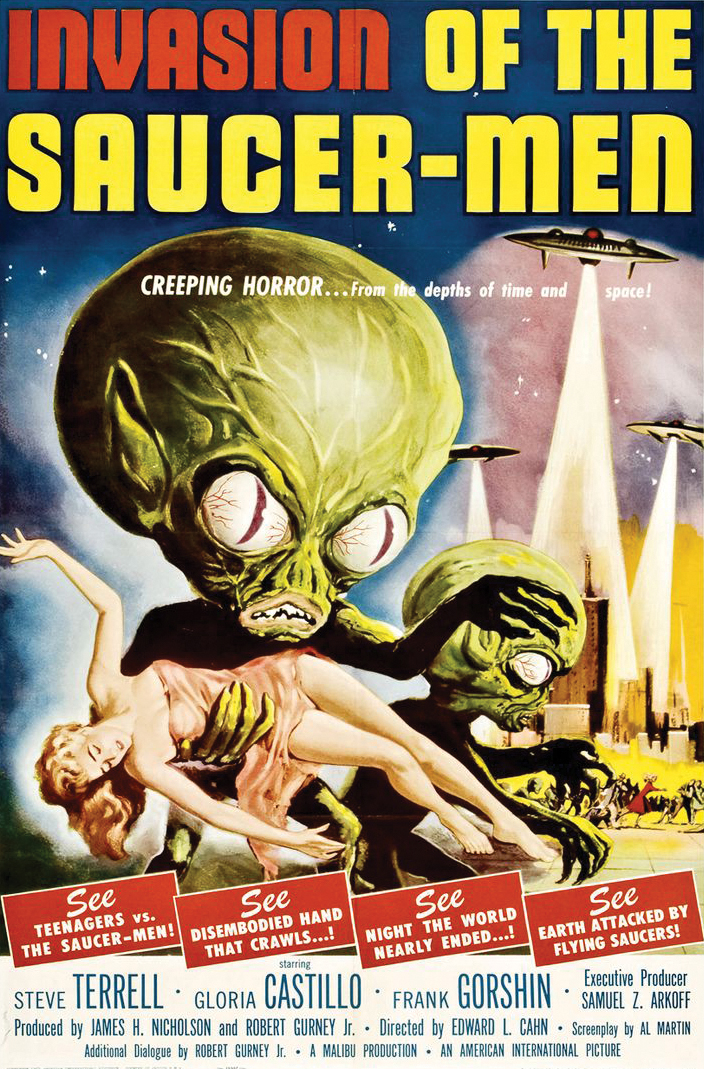 ---
TRAILER