Coolest. Villain. Ever.
Fans of the Misfits will take one look at "The Crimson Ghost" serial and say, "Hey, they ripped off the Misfits!" Actually, it was the other way around.
Fred C. Brannon and William Witney's 12-chapter serial is action-packed and has the coolest villain ever — an evil mastermind with a smiling skull-face in a hoodie. The Crimson Ghost has a small army of loyal-to-a-fault henchmen, and is hell-bent on obtaining a superweapon known as the Cyclotrode. (It's right up there with the Solarmanite in "Plan 9 From Outer Space.")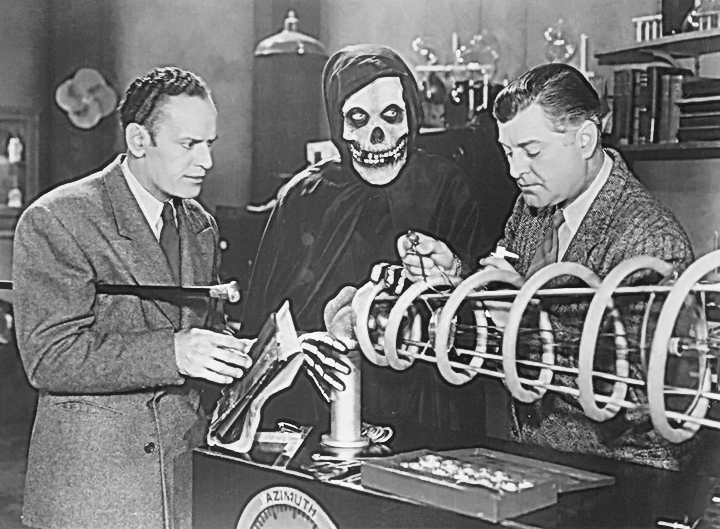 Charles Quigley as Duncan Richards (or is it Duncan Richards as Charles Quigley?) plays that rarest of academics: a two-fisted scientist. Richards doesn't hide behind his test tubes. When the bad guys attack, he gets in on the action.
Two stars of westerns seemed to have swapped personas in "The Crimson Ghost." Clayton Moore is usually a hero, but here, he's a henchman named Ashe. Meanwhile, Kenne Duncan is usually a villain — he was nicknamed "the meanest man in movies" — but here, he's an altruistic scientist.
This brings us to another cool thing about "The Crimson Ghost": Every serial has spirited fight scenes, but "The Crimson Ghost" really pushes it. The actors and stunt men do a lot of leaping off of furniture and nicely executed choreography — anything to give the ticket-buyer his 50 cents' worth.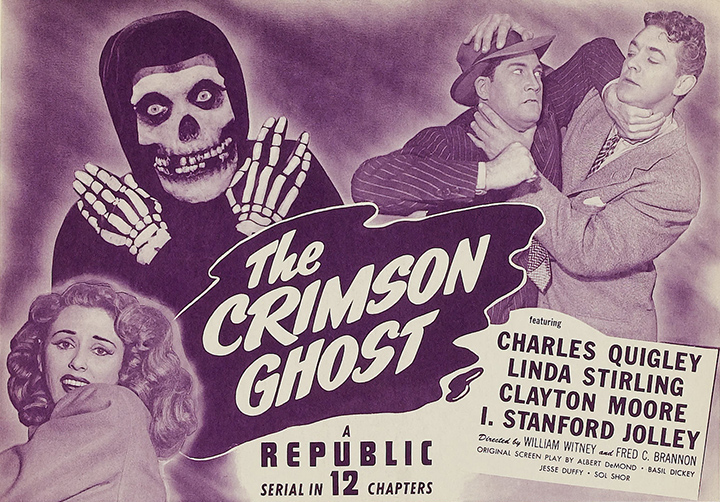 When I interviewed Clayton Moore in 1992, he spoke a bit about "The Crimson Ghost." "That was at Republic," Moore then said. "I believe that was my first serial at Republic." When I commented on the villain, Moore said: "His name was I. Stanford Jolley, I believe. Stan Jolley. We enjoyed the serials at Republic. We worked hard, however, and shot from sunup to sunset every day."
The credits for "The Crimson Ghost" do not name which actor played the title fiend. Neither does IMDB. But Wikipedia says that Jolley did the voice, while Bud Geary — a western specialist who died that same year — played the Crimson Ghost in costume. (I should also mention that Jolley played an unrelated character, a psychologist, in one chapter.)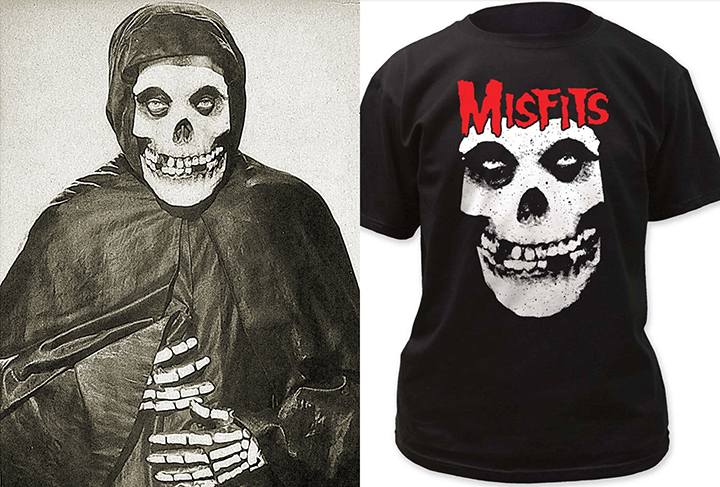 Clayton Moore, of course, went on to became the Lone Ranger. Kenne Duncan later ventured into horror, playing a gangster in "The Astounding She-Monster" (1957) and a swami in Ed Wood's "Night of the Ghouls" (1958). You would always see I. Stanford Jolley pop up — as a railroad employee in "White Christmas" (1954), or a finger-wagging judge in the Wood-penned "The Violent Years" (1958), or a stagecoach driver in Roger Corman's "The Haunted Palace" (1963).
So the next time you see a hipster wearing a Misfits T-shirt, you'll know where that "logo" came from. And to all Misfits fans, I recommend you watch the serial. It's freaky to see that smiling skull-face in action.
---
'THE CRIMSON GHOST'
Starring Charles Quigley as Duncan Richards; Linda Stirling as Diana Farnsworth; Clayton Moore as Ashe; and Kenne Duncan as Dr. Chambers
Written by Albert DeMond, Basil Dickey, Jesse Duffy and Sol Shor
Cinematography by Bud Thackery
Produced by Ronald Davidson
Directed by Fred C. Brannon and William Witney
[Republic Pictures]
---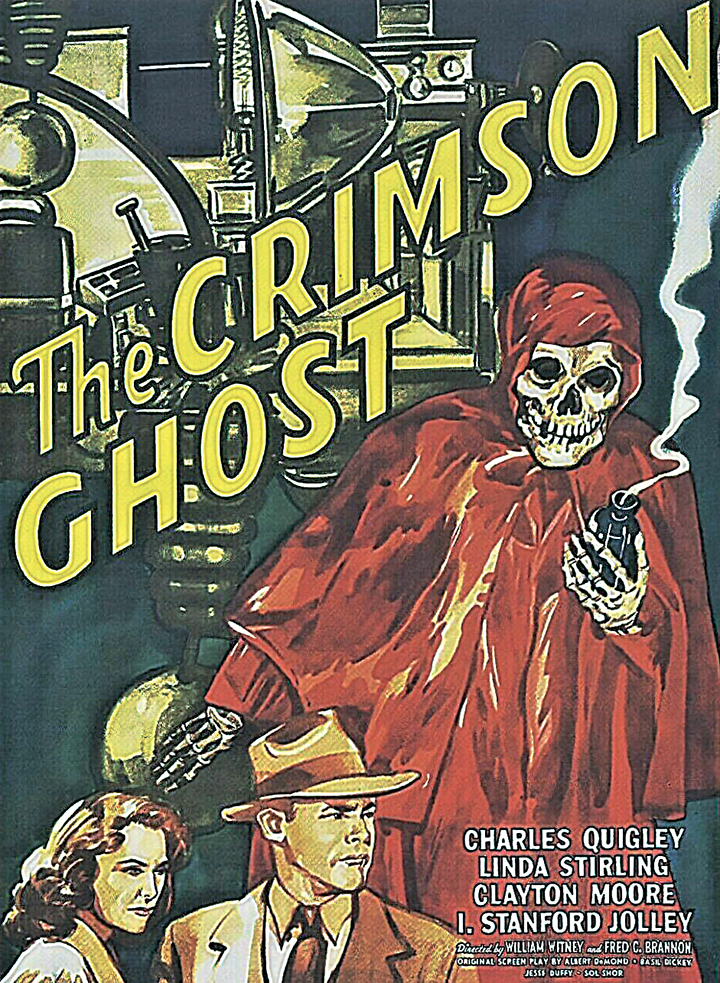 ---
TRAILER