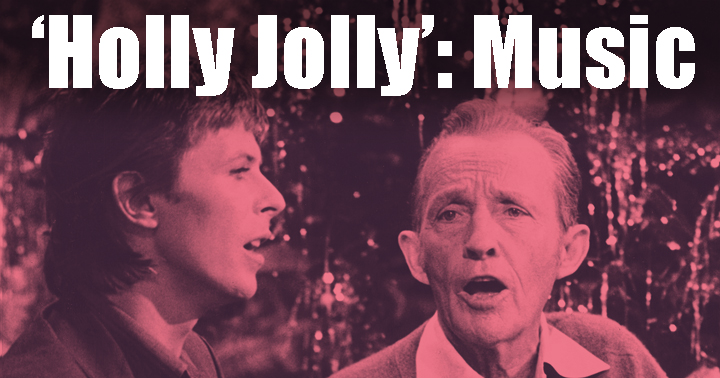 Following are excerpts from "Holly Jolly: Celebrating Christmas Past in Pop Culture" by Mark Voger ($43.95, TwoMorrows Publishing, ships Nov. 4).
PRE-ORDER "Holly Jolly" at TwoMorrows, Barnes & Noble, Amazon, and other online outlets.
---
The ones I used to know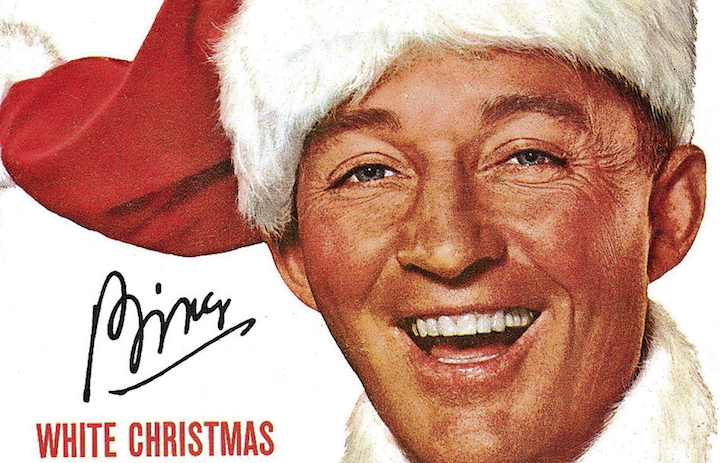 Think of the dozens of Christmas albums released every year, each with 10 or so songs vying to become "classics." And then think of "White Christmas." Bing Crosby first sang the Irving Berlin-penned song over the radio on Christmas Day 1941, just weeks after the attack on Pearl Harbor. Crosby soon recorded it for release, and wartime audiences found resonance in its themes of longing for home in an earlier time.
Many decades later, we are still captivated by the song (though the version we're most familiar with is the singer's faithful redo of 1947). Crosby's "White Christmas" is, by gum, old-fashioned — his Jiminy Cricket-style whistling solo alone drives this point home — but it never gets old.
And "White Christmas" isn't merely a holiday favorite. Back in the day, it was also a #1 hit. Yep, Christmas music could also be popular music — a novel concept in 1942.
Many vintage songs heard on radio, in stores and at parties during the season debuted as bona fide hits. Movie cowboy Gene Autry scored hits with "Here Comes Santa Claus" (#5, 1947) and "Rudolph the Red-Nosed Reindeer" (#1, 1949). Composer Johnny Marks' "Rudolph" was conceived as a mascot commissioned by the Montgomery Ward chain — a metaphor about commercialization?

Also on vinyl through the years: "Have Yourself a Merry Little Christmas" by Judy Garland (#27 in 1944, the year she introduced the song in "Meet Me in St. Louis"); "Santa's Secret" by Johnny Guarnieri with Slam Stewart (1944, with the lyric "He's got a reefer 100-feet-long / smokes it from end to end"); "Sleigh Ride" by the Boston Pops Orchestra (covered in 1963 in a bouncy version by the Ronettes); "Santa Baby" by Eartha Kitt (#4, 1953); "Zat You, Santa Claus?" (1953) and "Christmas Night in Harlem" (1955) by Louis Armstrong; "Be-Bop Santa Claus" by Babs Gonzales (1954); "Mistletoe and Holly" by Frank Sinatra, which Sinatra co-composed (1957); "Let it Snow" by Dean Martin (1959); "The Christmas Song" by Nat King Cole (1961, his fourth, most popular version); and "Do You Hear What I Hear?" by Robert Goulet in his "Camelot"-level baritone (1968).
---

Jingle-bell rockers
Rockers got their Christmas on not long after the rock 'n' roll genre was born in the middle 1950s. Sounding very birth-of-rock were "Jingle Bell Rock" by Bobby Helms (#13 in 1957); "Blue Christmas" and "Santa Bring My Baby Back to Me" by Elvis Presley (both 1957); "Rockin' Around the Christmas Tree" by Brenda Lee (#3 in 1958); "Run Rudolph Run" by Chuck Berry (#20 in a holiday category in 1958), and "Christmas Day" by Detroit Junior (1961).
"Jingle Bell Rock" and "Rockin' Around the Christmas Tree" are like sister songs. Both give shout-outs to "rock" in their titles — a commercial plus in those days — though Helms and Lee identified as country singers.
The guitarist on "Jingle Bell Rock," Hank Garland, also played with Presley, Johnny Cash, Patsy Cline and Roy Orbison.
Despite what sounds like a world-weary rasp, Lee was 13 when she sang "Rockin' Around the Christmas Tree." The patently R&B sax solo is by Boots Randolph ("Yakety Sax"). Guitarist Grady Martin, another Presley session guy, does a cute tradeoff with Randolph as the closer.
The '60s brought us "Little Saint Nick" by the Beach Boys (#3 in a holiday category in 1963); "Christmas (Baby Please Come Home)" by Darlene Love (1963); "Santa Claus Go Straight to the Ghetto" by James Brown (1968); "Christmas Song" by Jethro Tull (1968); and "Christmas" by The Who (from their rock opera "Tommy," 1969).
In 1963, the Beatles recorded a Christmas greeting for their fan club. This rarity was pressed in the cost-efficient, lightweight "flexi disc" format. The greeting, which casually mixed music and humor, became an annual tradition through 1969, the band's final Christmas as a group.
Vee-Jay Records, the first to release Beatles singles in the U.S., gave themselves a Christmas present in 1964 with "The Beatles: We Wish You a Merry Christmas and a Happy New Year" — essentially cash-grab reissues with a new picture sleeve.
Leave it to John Lennon and Yoko Ono to come up with that improbable hybrid, a heartwarming Christmas song that doubles as a Vietnam War protest song: "Happy Xmas (War is Over)" (#4 in the U.K. in 1971). More from ex-Beatles: "Ding Dong, Ding Dong" by George Harrison (#36 in 1974) and "Simply Having a Wonderful Christmas Time" by Paul McCartney (#15 in a holiday category in 1979).
---
Darlene Love on early Christmases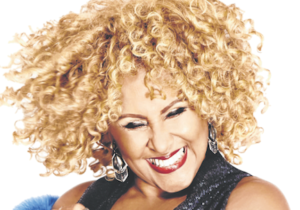 "I grew up in a Christian home, so Christmas was always about the birth of Jesus Christ and the love Jesus Christ had for us. And that we should always be more in a giving mode than a receiving mode. I mean, we didn't have a lot. I had three brothers and a sister and a mother and a father — a very loving family. If we got one gift, that was wonderful. We didn't have a tree until we woke up on Christmas morning. We thought there really was a Santa Claus, because that's what we woke up to. The house was all decorated. There was plenty of food. It was the one time of year when you had more food than you needed."
---
Beach Boy Mike Love on 'Little St. Nick'
"You know, we played with that song. I worked on that with Brian (Wilson, Love's cousin). I did the preponderance of the lyrics on 'Little St. Nick.' Brian did the track and the arrangement. When I first heard that back, it sounded like angels singing. The chorus backgrounds are so beautiful. It sounds like the Vienna Boys Choir in action."
---


PRE-ORDER "Holly Jolly" at TwoMorrows, Barnes & Noble, Amazon, and other online outlets.