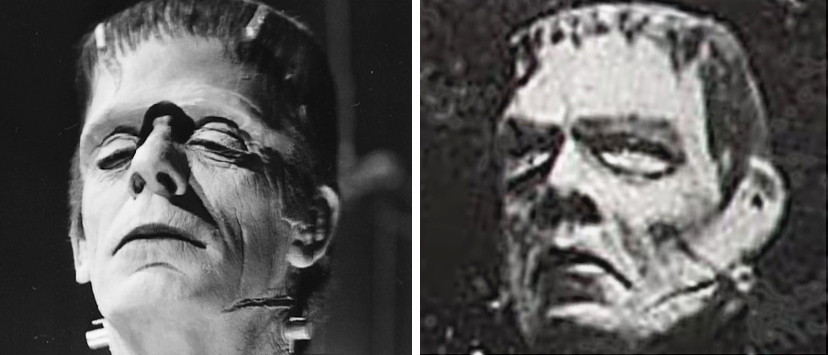 When I was a kid reading Famous Monsters some time in the 1960s, I came across an article about movies that mentioned one titled "The Adventures of the Spirit," which had "a cameo by Glenn Strange as the Frankenstein monster."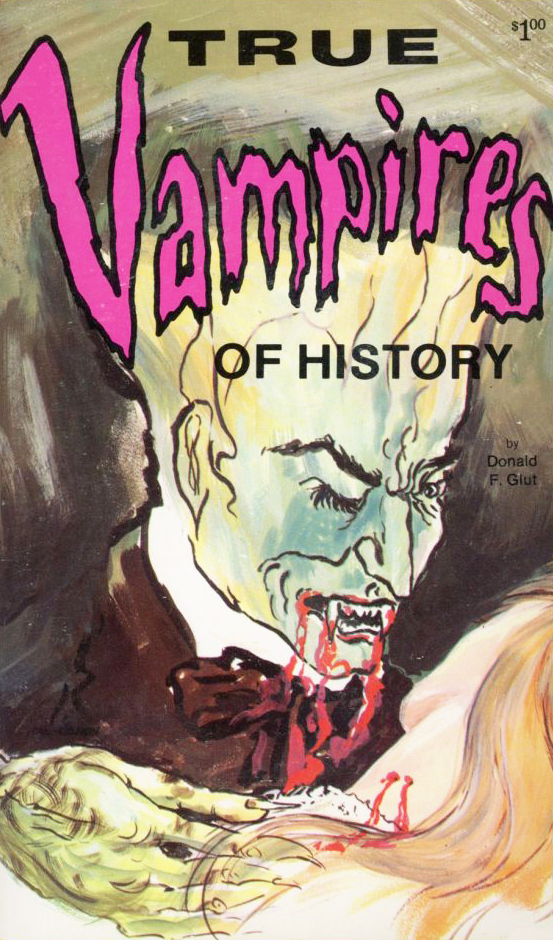 I was like: Glenn Strange as the monster?! I thought I knew for a fact that Glenn Strange played the monster only three times: "House of Frankenstein" (1944), "House of Dracula" (1945) and "Abbott and Costello Meet Frankenstein" (1948).
I can't remember if the item mentioned that "The Adventures of the Spirit" was actually a 1963 home movie made by Don Glut, a young writer (and apparent Forrest J Ackerman protégé) whose name was always popping up in the pages of Famous Monsters. (I remember buying Don's paperback "True Vampires of History" from a shop on the boardwalk in Wildwood, N.J., when I was in grade school.)
Also, I was too young to deduce that the "Spirit" of the title was probably the noir-ish masked hero created by the great Will Eisner. (My comic-book scholarship only involved what was current at the time. I had yet to dig back.) So I figured this Spirit must be a ghost of some sort.
That little detail about Glenn Strange again playing the monster always stuck in my brain, even as I came to realize that the movie was not a bona fide theatrical release. I've been dying to see it for most of my life.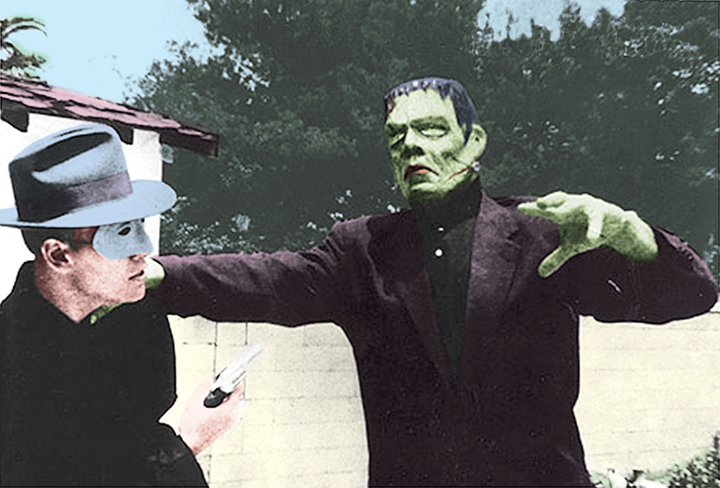 One day I looked for it on the Google, and found a tiny photo of it from Don's website. That really stoked my interest, because it showed Glenn's unmistakable lined face wearing a Frankenstein getup. Just for laughs, I've taken that photo, enlarged it and colorized it (above).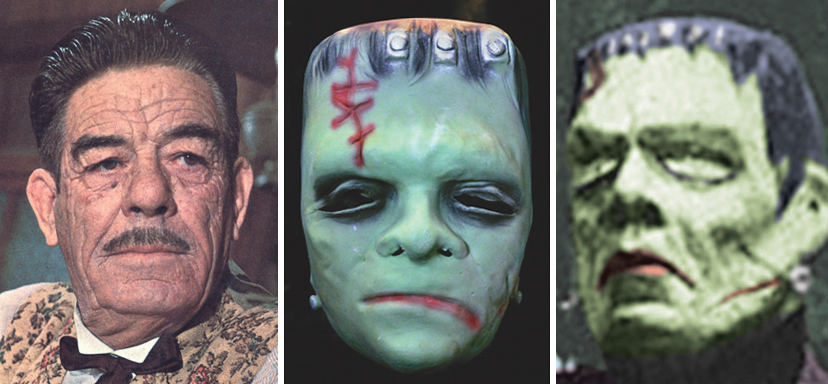 I really wonder how the getup was created. This is wild conjecture, but it looks to me like Don took a Topstone Frankenstein mask, cut the top of it off, stuffed it with newspaper and put it on top of Glenn's head. (At left is a photo of Glenn from "Gunsmoke," in which he played Sam the bartender. At center is a photo of an old Frankenstein mask, possibly a Topstone, that I've "borrowed" from Raymond Castile on UniversalMonsterArmy.com.) I figure Don then added some makeup and applied fake eyelids (which is something Jack Pierce always used in his Frankenstein makeups). Glenn's distinctive face did the rest. In any case: Bravo.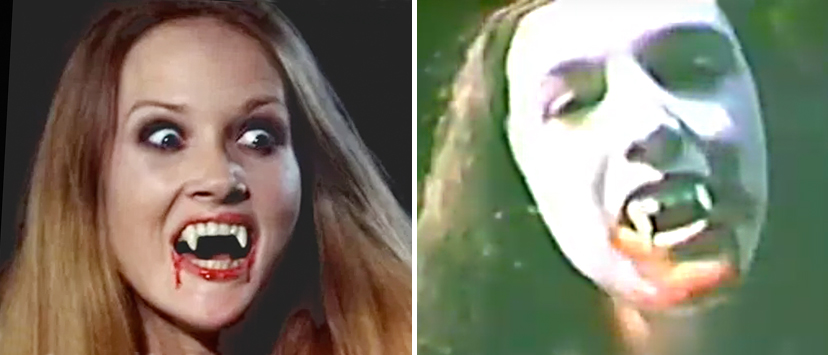 Just the fact that Glenn Strange would do something so cool for a kid warms my heart. The guy seemed like a real teddy bear. Also, it puts Glenn Strange in a category with my little sister and brother: People Who Played Monsters in Amateur Movies. At above right is my sister Bobbi as a vampire in my 1971 home movie "Fury of the Vampires." I based her look on Nancy Barrett's wild-eyed, fang-bared tour de force as a vampirized Carolyn Stoddard in "House of Dark Shadows" (1970), shown at left.
Anyway, my wish is coming true. In 2006, Don released the two-disc DVD "I Was a Teenage Moviemaker: Don Glut's Amateur Movies" (Studio Epoch), with all 41 of his amateur 16mm films. It is whisking its way to me as I type. I can't wait to finally see "Adventures of the Spirit" with Glenn Strange as the Frankenstein monster.
---
VIDEO: Below is "Fury of the Vampires" (1971), starring my sister Bobbi as the vampire, my brother Brian as her first victim, and our cousin Terri as the heroine.
VIDEO: Below is the trailer for another DVD release, "Monster Kid Home Movies." It looks hilarious. "Fury of the Vampires" would have been right at home in this collection.