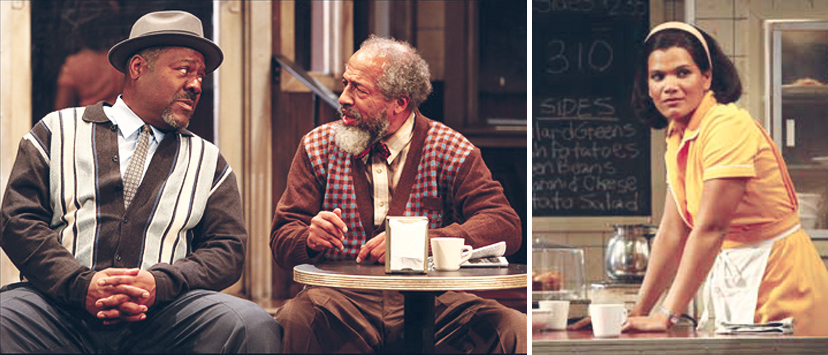 Impressions revisited
By Mark Voger, author, "Monster Mash: The Creepy, Kooky Monster Craze in America 1957-1972″
After seeing August Wilson's "Seven Guitars" at Two River Theater in Red Bank, I got in a reminiscing mood; I'd twice seen Wilson's "Two Trains Running," at the Peter Norton Space in New York City in 2007 and at Two River in 2013. I revisited my impressions of the 2007 production, which follow.
On Jan. 26, 2007, a freezing cold night, a friend and I caught August Wilson's "Two Trains Running," directed by Lou Bellamy, at the Peter Norton Space on 42nd Street between 10th and 11th in Manhattan. It was a transcending experience.
We had front row seats, a bit closer to stage-right than center. The Peter Norton Space is a small house with a low, wide stage, so the cliche "there's not a bad seat in the house" applies.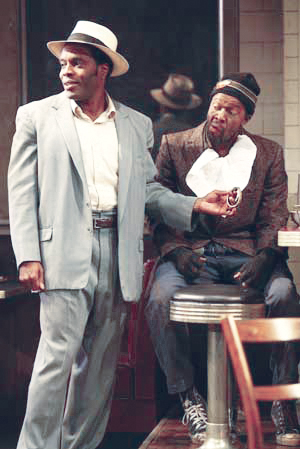 The action takes place in a dingy Pittsburgh diner in 1969, and set designer Derek McLane took full advantage of the stage's generous width. Just sitting in your seat waiting for the play to begin, you could study the set and marvel at the details: a battered frying pan … a nasty mop hanging in the back … framed photos of famous black atheletes … a vintage juke box … missing floor tiles … a coffee urn with the red light on … a hint of a street scene. (There were even olfactory touches; at one point in the play, the smell of bacon permeated the theater.)
"Two Trains Running" — one of 10 works in Wilson's "Century Cycle" of plays set in each decade from the 1900s to the 1990s — largely focuses on the hopelessness felt by many African Americans in the late '60s, following the fading promise of the Civil Rights movement and the assassination of two inspirational figures, Malcolm X and Martin Luther King Jr. (A rally in memory of Malcolm X is a plot point.)
Not that "Two Trains Running" is a preachy piece; this is one of those plays that can have you misty-eyed one second and laughing the next. Wilson's penchant for characterization via dialogue is remarkable. "Two Trains Running" is a long play, but I never wanted it to end.
The cast is glorious. Frankie Faison plays diner owner Memphis. (Faison is remembered as Barney, the prison guard who treats Anthony Hopkins' Hannibal Lecter with humane decency in "Silence of the Lambs," and Burrell, the police commissioner often at the receiving end of bitter political fallout in "The Wire.") Memphis dreams wistfully of selling his diner to the city at 500 percent profit.
January LaVoy is Risa, a waitress whose profoud self-esteem issues have driven her to self-mutilation and mistrust of men. Chad L. Coleman (another "The Wire" cast member) is Sterling, a young buck recently released from prison who tries to score a job — and penetrate Risa's invisible wall.
Also in the cast are Ron Cephas Jones as Wolf, a likable numbers hustler; Arthur French as Holloway, a sage-like old-timer; Leon Addison Brown as Hambone, a mentally disabled man; and Ed Wheeler as West, an imperious funeral home proprietor.
I hereafter plan to monitor the work of this cast, and urge you to do the same.
Postscript: I'm sure I'm not the first to note that Hedley's refrain ("Here go the money") in "Seven Guitars" is echoed in that of Hambone ("He gonna give me my ham!")  in "Two Trains Running."
View 34-page "Monster Mash" preview
Order "Monster Mash"