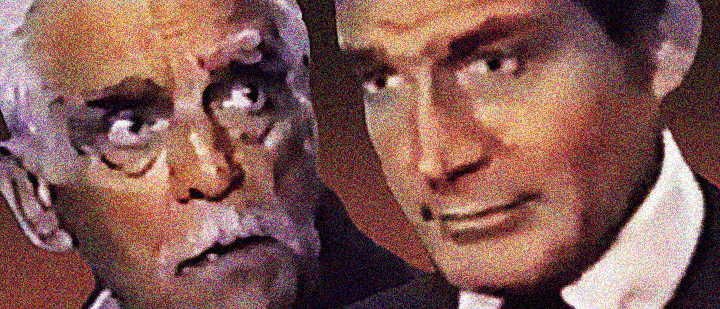 Karloff's dramatic farewell
The final dramatic performance of Boris Karloff — I'll offer my evidence on this point shortly — was in a TV movie titled "The White Birch," which aired as a special elongated episode of the NBC series "The Name of the Game" (1968-71). When I was 10, I witnessed the very first airing of the program on Nov. 29, 1968, the day after Thanksgiving. I didn't realize that the old man in the wheelchair who pulled the ultimate "fakeout" on the world was the great horror-movie icon. I just happened to be watching "The Name of the Game" (not exactly a kid-friendly program) on that Friday evening. But I never forgot his performance.
Now, thanks to the miracle of YouTube, I have finally seen the episode again — for only the second time in my life — 53 years and 74 days after that initial viewing. (The video is below, if you're so inclined.)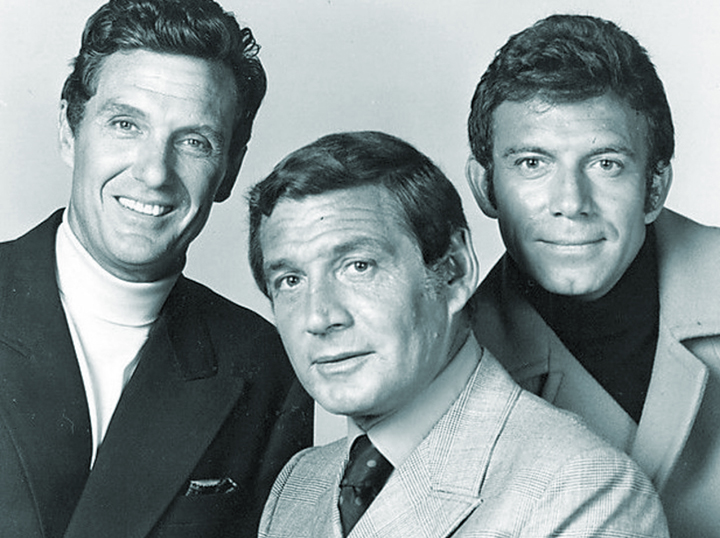 "The Name of the Game" was a fairly serious series, as opposed to somewhat campy, which could often be the case in 1968. (I'm looking at you, "It Takes a Thief.") Set in the publishing world, the series aired Fridays on Channel 3 in the Philadelphia viewing area. You could call it an anthology series, in the sense that it had three stars — Robert Stack, Gene Barry and Anthony Franciosa (above) — who rotated as the lead characters from episode to episode, but rarely appeared together. (At least, that was how the series began.) Susan Saint James — who later co-starred with Rock Hudson in "MacMillan and Wife" — was another recurring cast member, and appears alongside Karloff in "The White Birch."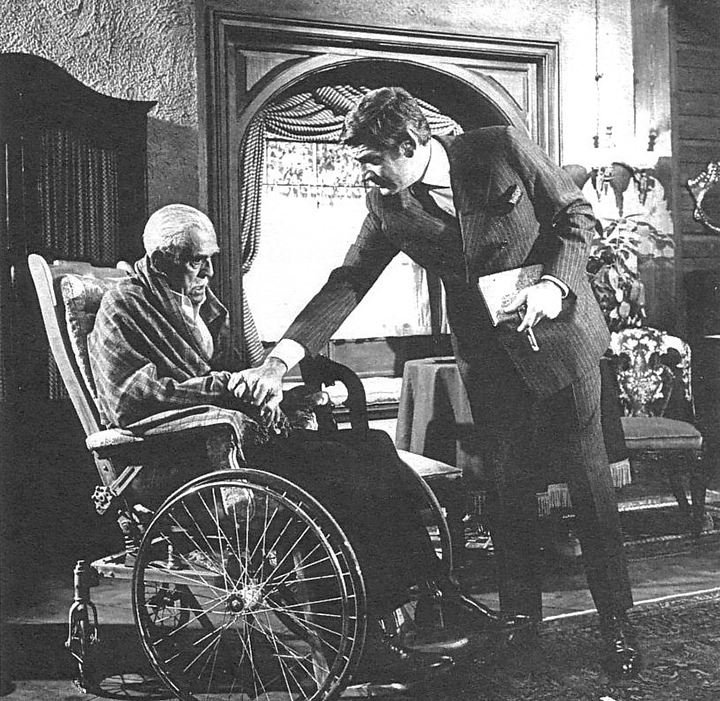 Above is a still of Karloff and Barry from "The White Birch." The role is, I believe, a fitting dramatic farewell for Karloff, who appeared in about 150 films over a 50-year movie career. Karloff played Mikhail Orlov, a Czechoslovakian novelist who was the apparent victim of a massive stroke, which resulted in brain damage and immobility. (For the previous decade, Karloff was having severe and worsening mobility issues himself, so the role seemed tailor-made for him.)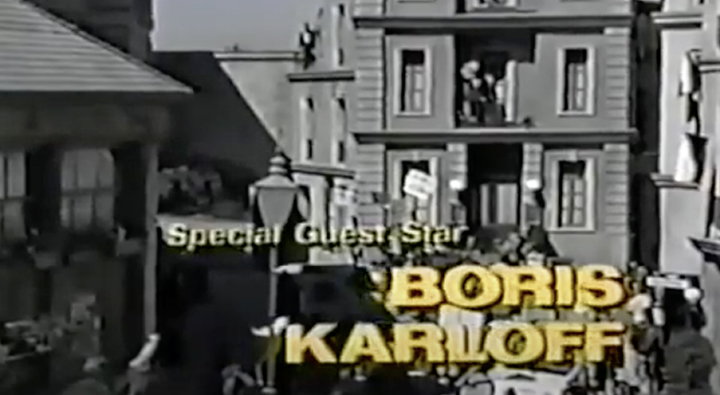 Above is Karloff's credit from the episode. It is superimposed over black-and-white "flashback" footage depicting the Soviet-led invasion of Czechoslovakia, a real-life event from the previous August during which 137 civilians were killed. So this was ripped-from-the-headlines stuff.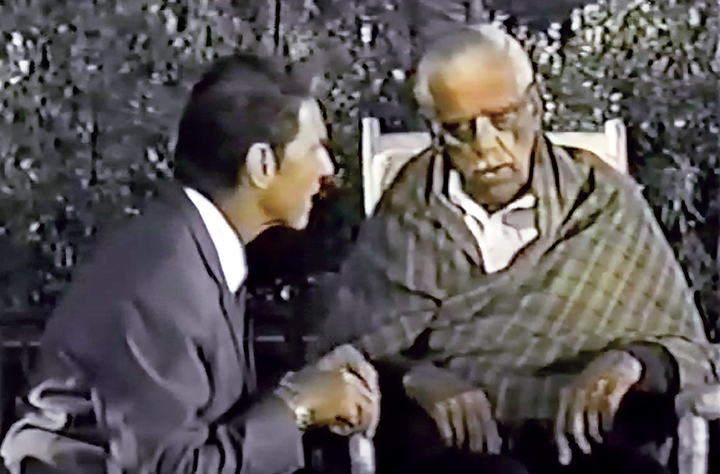 Karloff's character Orlov has written a memoir titled "The White Birch," which exposes acts of Soviet aggression. For this reason, the Russians want that manuscript. A shifty publisher named Emile Farno (French film star Jean-Pierre Aumont) senses that "The White Birch" could make a fortune. Farno presses Orlov for the whereabouts of the manuscript, but strikes out.
This was a reunion for the two actors, who co-starred in "Cauldron of Blood" (filmed earlier in Madrid but not released until 1970). In fact, if I didn't take the above screen shot myself, I would have sworn on a stack of bibles that it is a scene from "Cauldron of Blood."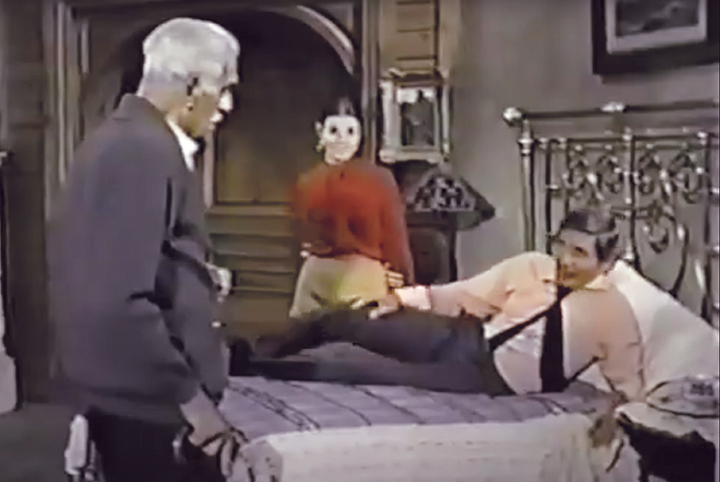 Once alone with Glenn Howard (Barry), the straight-shooting figurehead of Howard Publishing, and Howard's gal Friday Peggy Maxwell (Saint James), Orlov emerges from the shadows and, with the aid of a cane, walks toward them. Wha?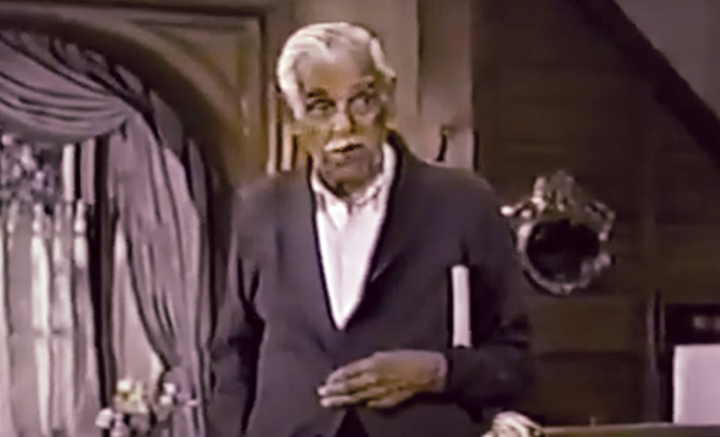 Surprise! Orlov, who previously stared into space with his hands shaking, proves to be alert, charming and verbose — not at all what we were led to believe. He admits to Howard and Maxwell that his stroke was "only an audacious piece of fiction. But it succeeded just the same. Oh, yes, I'm very well. Old, crotchety, lame, maimed by time. But, to use a Mark Twain expression, foxy."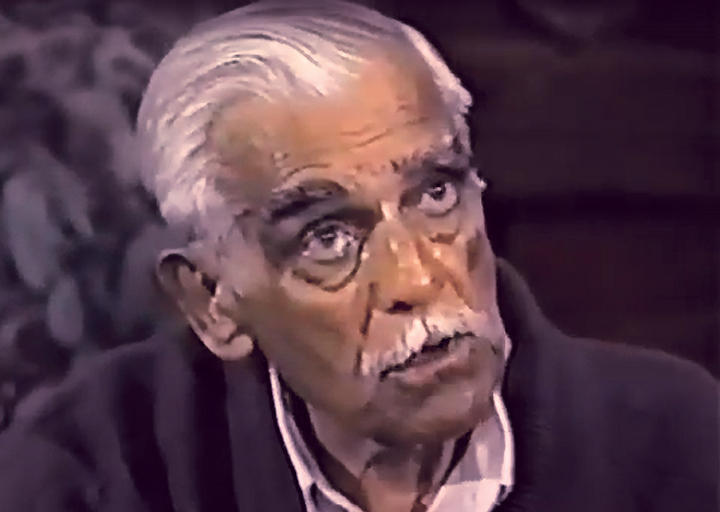 Orlov urges Howard to smuggle his "White Birch" manuscript (which is disguised as an edition of Twain's "The Adventures of Tom Sawyer") out of Czechoslovakia and publish it, thus exposing Soviet tyranny to the world. But Howard doesn't immediately agree to this dangerous mission. "Many lives have been risked for this book," Orlov implores him. "How many more lives is it worth?" asks Howard.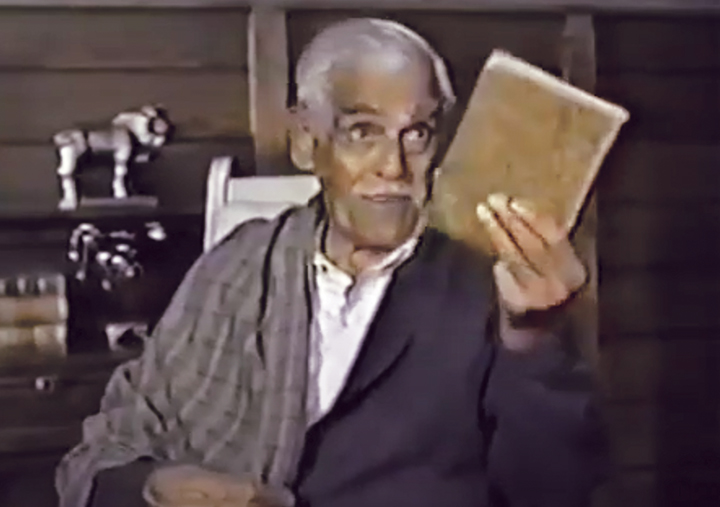 But Howard relents. He will publish "The White Birch." He leaves Orlov with a real copy of "Tom Sawyer" that he'd brought along as a gift. Orlov promises to "hide it under the covers, as Tom did." Karloff's final words in his final dramatic performance: "Censorship makes children of us all."
---
The episode

Lousy quality, but I'm so grateful someone put it up. It's amazing how many cool players are in this TV movie in addition to the aforementioned Barry, Saint James and Aumont: Roddy McDowall, Richard Jaeckel, Pete Duel ("Alias Smith and Jones," yo!), Susan Oliver (the other alluring green alien on "Star Trek").
---
Trusted sources
Google it? Naw — I looked it up in my dog-eared old books. These trusted sources convince me that "The White Birch" was Karloff's final dramatic performance.
(Tragic note: I've had my tattered copy of the Forrest J Ackerman-edited Karloff bio "The Frankenscience Monster" since it first came out in 1969, when I was 11. This very day, when I consulted that trusty volume, the cover and the first 16 pages separated from the rest of the binding! Ah, it was bound to happen one of these years. I guess it's finally rubber-band time.)
Both Ackerman (in "The Frankenscience Monster") and Calvin T. Beck (in his 1975 book "Heroes of the Horrors") noted that Karloff shot "The White Birch" in September 1968 (the same month he appeared with Vincent Price on "The Red Skelton Show").
Author (and Ackerman hanger-on) Bill Warren was on hand when Karloff shot his final theatrical release, "The Incredible Invasion," the previous May for a Mexican company. In "The Frankenscience Monster," Warren wrote: "After the shooting was completed, he went back to England, only to return to the U.S. later in the year, when he made 'The White Birch' segment of TV's 'Name of the Game.' At the end of 1968, he went home to England for the last time."
(It should be noted that Karloff made one more TV appearance following "The White Birch," on the comedy-variety series "The Jonathan Winters Show." By all accounts, the Winters show was Karloff's final appearance in any medium.)
In his 1974 book "The Films of Boris Karloff," Paul M. Jensen wrote: "Karloff's last dramatic role on TV was in a segment of 'The Name of the Game.' Called 'The White Birch,' it was shown in November 1968. As a controversial Czech novelist, he has one scene with some reporters in which he pretends to be senile, and one with star Gene Barry in which he sheds this pose. The role was limited, with few character revelations, and whatever substance it had was due to Karloff's own personality."
When I spoke with Thomas Hamilton, director of the new documentary "Boris Karloff: The Man Behind the Monster," he recounted a story he came across about Karloff in "The White Birch." Said Hamilton: "When he arrived on set for 'The Name of the Game' — I mean, he really was in a terrible state. He was on crutches, dragging himself in through this entrance, and clearly in a lot of pain. They were all sort of staring at him. And he said, 'Well, there's not a lot left of me, but what there is, is yours.' I love that comment."